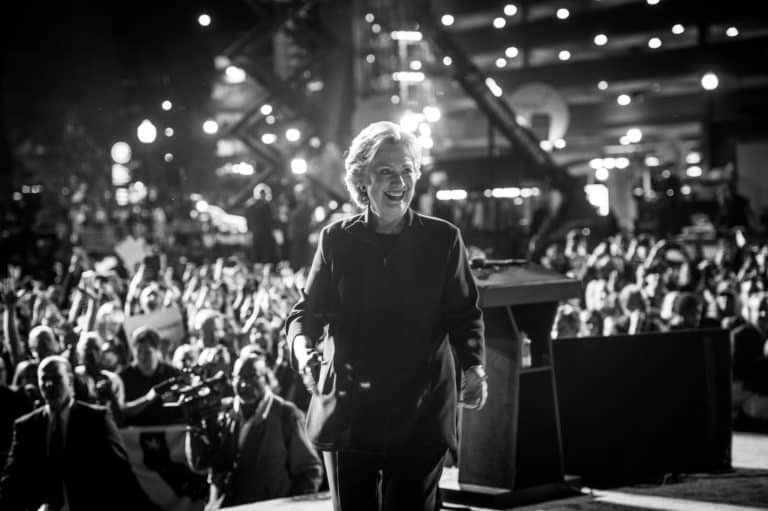 American presidential politics has crossed a Rubicon. In the span of 48 hours, the United States government formally accused Russia of directly interfering in the presidential election, an 11 year old video was released showing Donald Trump bragging about committing sexual assault, Trump held a media event with women who accuse Bill Clinton of sexual assault, and then Trump pledged he would put Hillary Clinton in jail if he won the presidency. This is Banana Republic territory. As much as it pains me to accept, this campaign has been harmful to our democracy, the fabric of our society, and to the United States' standing in the world. Fortunately, it's only four weeks until Election Day.
Given how close we are to the end of the campaign, the reality that Clinton holds a commanding lead is extremely significant. No presidential candidate in the history of modern polling has overturned a deficit of at least four points in October. The polling averages now show that Clinton holds a six or seven point lead, and that includes many polls taken before the Trump tape was released, after which most polls give Clinton around a 10 point lead. There is always a first time for everything, and this election is so unpredictable that it is a good idea to be cautious about predictions. But Clinton's position now appears insurmountable.
Part of the reason she seems in such a strong position is that the Trump campaign is now clearly pursuing a strategy focused on energizing its core supporters with positions and messages that alienate large numbers of Republicans, let alone swing voters and Democrats. Trump's call to put Clinton in jail if he wins is popular with the base but has drawn a sharp rebuke from across the political spectrum, including former top Republican government lawyers. Trump's repeated praise and defense of Russia, even deflecting blame on the election hack at the last debate, prompted intelligence officials to disclose to the press that Trump and Clinton had been briefed on the findings that led to last week's formal accusation of Russian involvement.
If those are odd positions, it's baffling that four weeks from an election Trump has openly declared war on top Republican leaders. In a series of tweets on Tuesday, Trump said, that "the shackles have been taken off" him, and then went on to attack not Hillary Clinton and Democrats, but rather House Speaker Paul Ryan, Sen. John McCain, and Republicans in general for failing to be as loyal to their candidate as Democrats. It is already extremely bad for Republicans and with Trump's fusillade Tuesday morning; it's looking like its only going to get worse.
The dilemma for Republican elected officials like Ryan and McCain is that they are caught in a pincer set by the conflicting demands of this election and their political future. The reality is that many more Republican voters want Republican elected officials to stick with Trump than want them to dump him—a poll released by Politico showed 74% of Republicans want the party to stand by Trump to only 13% who don't. So that means that Republicans on the ballot this year are in a lose-lose situation with Trump: back him and risk losing support from some Republicans and many more swing voters, or drop him and preserve a chance to win some swing voters but anger the base of your party. And regardless of how it plays out on November 8, sticking with Trump in this election could be a huge anchor around the necks of Republicans for many elections to come.