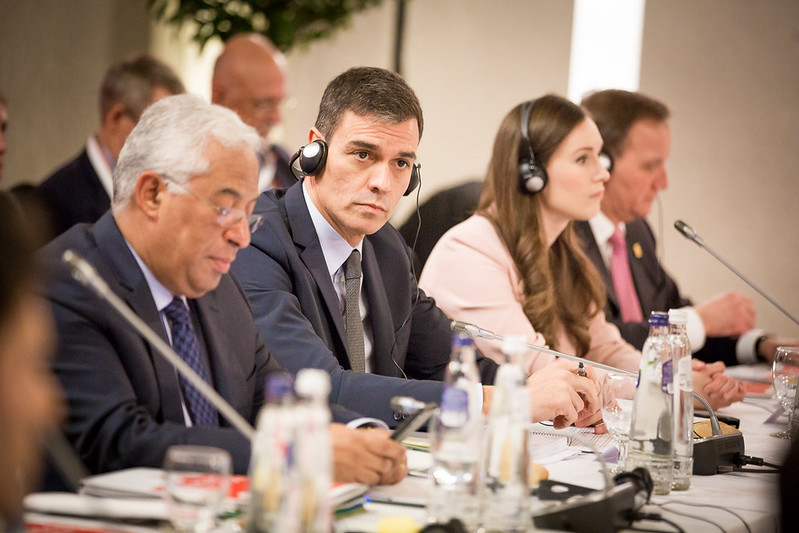 A great window of opportunity for a progressive agenda in Europe
The 2019 European elections finally saw the turnout going slightly up. In parallel, Social Democrats noted an unanticipated positive result. Almost two years into the legislative period, despite the pandemic, the polls consistently show two tendencies. First, Europeans tend to be positive about the EU in numbers comparable to before the 2008 crash. Second, progressives in the lead of their respective governments consolidated their positions. The question might sound far reached but: could there be a correlation? And if so, how can we built upon it?
It has been a year since the pandemic paralysed EU member states and changed the life for all the Europeans, possibly forever. Even though vaccines were developed in a record time, there are sadly also problems with their provision, and worries about their capacity to protect citizens against the COVID mutations. The heated discussions in the actual and virtual chambers of the European Parliament could signal a general frustration among policy makers. Intervention after intervention, there is a sense that the EU needs to grow much stronger, much more effective and much more united to do better – on complex questions such as relations with Russia; on defending the principles it should stand for, such as democracy and rule of law; or on saving Polish women from a fate that they are sentenced to after the further restriction of the abortion law.
But while reading transcripts of the parliamentary debates and diverse paper clippings might be a downer, perhaps somewhat paradoxically one can find an antidote in looking carefully at surveys – such as Parlemeter or Eurobarometer – instead. The numbers are rather surprising, going against the presumption that people, who have been confined to their homes for so long – many of whom have lost dear ones and are now looking at very insecure prospects – would manifest anything else than frustration and depression. Such an assumption would sound both logic and legitimate, drawing from the news about outbursts and riots against lockdowns across the Union. But surprisingly, a majority of European citizens do cherish a specific positive thought – and quite unexpectedly it is connected with the EU.
Across diverse surveys, it stands out that Europeans dropped their ambiguity for a clearly defined attitude towards the EU. For the first time since 2007-2008, the proportion of those who are positive about the Union went above 50 per cent. Three quarters believe in the EU Recovery Plan and two thirds are optimistic about the Union's future. The numbers of those who are satisfied about how the EU responded to the pandemic broadly equal those who are not. In many cases, the Union's pandemic management scores higher than that of citizens' own national governments. Finally, there are clear demands for the EUs role in the years to come – including a larger EU budget with more financial means to support public health care, the fight against poverty and a strive for equality between men and women. Last but not least, citizens demand the EU to take an active role externally, as protagonist of defending human rights and freedom of speech across the globe.
These numbers are encouraging by themselves, but the breakdown of where these positive attitudes stem from is even more so. It might sound far-fetched to make a categorical conclusion, but there seems to be a correlation between those figures and the role played by Social Democrats in the lead of their respective governments (in Portugal, Spain, Malta, Finland, Sweden and Denmark).
To begin with, over the past 12 months, an unprecedented number of government statements related to the EU have been issued. More specifically, an important amount of these has been devoted to the interactions between the respective member state and the EU in the coordination of their fight against the pandemic. These statements are extremely carefully crafted, in Sweden or Finland for example, they have also been used to illustrate the processes of checking the compliance with the national rescue packages and the EU regulations. This had an educational aspect, and also served to increase transparency and consequently to build confidence, while sending a message that the EU rules (Treaties and Directives etc) are there to be followed at all times.
Furthermore, Social Democratic governments made sure to use these statements as explanations. For instance, the respective Spanish and Maltese ministers have clarified that while the fight with the pandemic imposes many safety measures that are harming their economies, the solutions are not always straightforward and must be well balanced, taking into account the long-term objectives. Consequently, providing help to farmers or fishermen (and -women) has to be accompanied with attention to how such assistance could not only help at the given moment, but also be an incentive in preparing the reform of the Common Agriculture Policy and attaining the objectives of the New Green Deal. This is what makes a difference between merely managing the crisis and governing in times of crisis.
Finally, no matter how difficult and absorbing the national situations have become, Social Democrats in power remained internationalists. For example, the Spanish government was at the forefront of debates, emphasising that this is the moment for multilateralism to become the global political approach. The Finnish and Danish governments consequently kept on informing the public about their financial contribution to European and international organisations in a hope that joint efforts could ensure faster development of the vaccine. The Swedish government focused on the need to protect people, protect their (human) rights across the globe and fight with any power abuse or media manipulation.
This has been a qualitatively different attitude compared to what had been observed so often across the EU, especially during crises. There was no blaming or using EU as scapegoat. Instead, there was a discourse of respect, transparency, solidarity and cooperation. As a result, it stands out that citizens of these six countries are among those who evaluate their country's EU-membership as most positive (with the exception of Malta, where this opinion only stand at the EU average – 63 per cent). They are well informed and also have very clear priorities of what the Union should focus on and can actually deliver upon, which appear to be quite well correlated with what their national governments were arguing for (the Swedish wish that the EU steps up in terms of human rights protection worldwide, the Spanish one that it does more for the equality between men and women etc).
There are three lessons to be drawn. First, while Social Democrats in the respective governments have been consequent and true to their values, they also choose to promote international solidarity and European cooperation – even ifoccasionally, amongst themselves, they held different opinions on specific issues (ie regarding financing of the recovery instruments). Their principled stand translated into approval ratings that saw them consolidated in their positions throughout 2020. Secondly, because they have been so consequent, so open and so explanatory about the EU, the narratives that are so often picked up by media about Brussels as a 'villain' were absent. Instead, there was a space for positive and hopeful attitudes to develop. And finally, of course scepticism about polls or correlations is indicated, but if to believe them just for a moment – especially as they echo other surveys done by FEPS and partners – there is a great window of opportunity. Citizens across the continent seem ready to look beyond the decade in which "EU" and "crisis" were inseparably linked in all commentaries. Instead, they are hopeful and clear in their expectations, which correspond to the progressive agenda for Europe. Such an openness is rare and should be responded to. And the best way to do this would be to take this energy to make the Future of Europe Conference what it has always been meant to be: by the people, with the people and for the people!