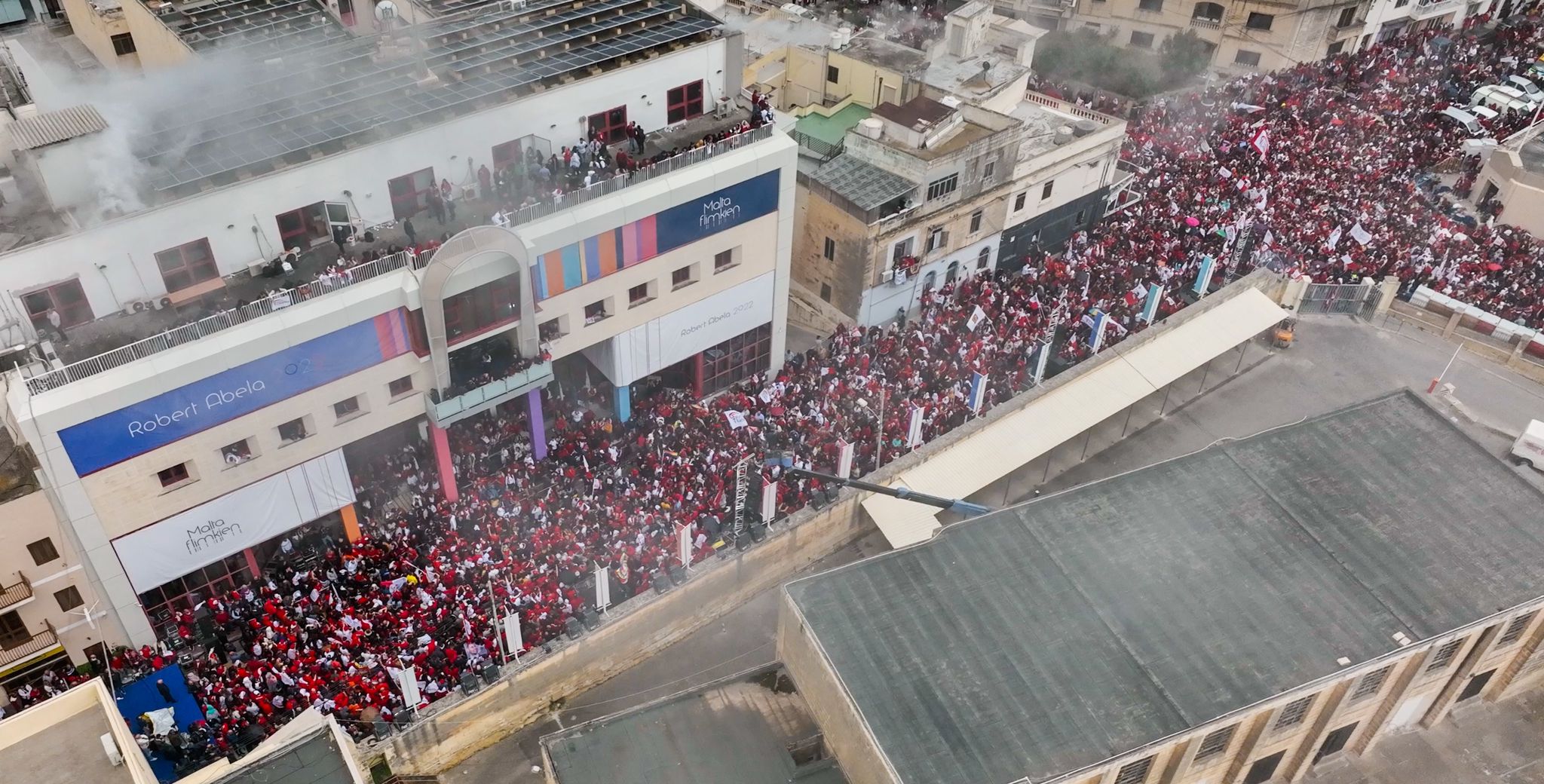 A third landslide victory for Malta's Labour Party
Against the background of rising fuel and energy prices, a post-pandemic era and a new reality of geopolitical turmoil, the Maltese Labour government continues to demonstrate that austerity is not the answer to a crisis. Over the past two years, it focused on the well-being of its people, with a strong health and welfare system, as well as targeted measures to ease the negative effects of the pandemic on industry. These are among the reasons for the success of the Partit Laburista (PL) – the Maltese Labour Party.
The election result last weekend gave PL its third consecutive victory and an elected first mandate for Robert Abela, who became party leader and Prime Minister (PM) in January 2020. At the beginning of that year, no one could predict what was to come. Only weeks after he took the oath, the Covid-19 crisis began. Quick and strong decisions were needed as the Labour government set out to support the lives and livelihoods of its people.
Labour has had a story of economic success since taking office in 2013, with Malta experiencing several years of growth and low unemployment. The right policies saw Malta continue to grow into a strong European state, with investment in an array of industries and much social reform, from establishing a new energy mix, launching overdue infrastructural projects across the island, marriage equality and giving businesses incentives to invest in their workforce. New measures such as free childcare for working parents, tapering of benefits and in-work benefits encouraged individuals to return or stay in the workforce rather than rely on government aid. At the same time, benefits to safeguard the most vulnerable in society were strengthened.
The government managed to sustain economic growth year on year – from 4 per cent in 2012 to nearly 10 per cent in 2015. Growth was maintained until Covid-19 hit in 2020, yet the economy still expanded 10 per cent in year-on- year terms in the fourth quarter of 2021. Similarly, unemployment, which stood at over 6 per cent in 2012, was curbed to just above 3 per cent by 2019. In fact, Malta is the only Eurozone country with lower debt ratios compared to 10 years ago – 4.85 per cent – and it sustains the lowest tax burden in Europe.
These achievements made it easier for the Labour administration to invest its surplus back into the economy when Covid-19 struck, helping keep people in employment through incentives such as the Covid Wage Supplement, while supplying hospitals with all the necessary resources to combat the virus. With the EU putting on hold policies against state-aid, the Maltese government managed to absorb inflation pressures and maintain price stability.
It would have been easy for the government to have fallen into the trap of pushing up taxes or curbing benefits. However, Labour was clever enough to stay true to its social democratic and progressive principles. While battling a pandemic from a medical perspective, the government remained in touch with students, pensioners and business owners across the board. In the summer of 2020, Abela announced a mini-budget with targeted tax measures, supplements and subsides as well as refunds.
At the same time, Abela was adamant to address the recommendations presented by the Venice Commission for better checks and balances within the system of governance. Within a few months of him taking office, legislative proposals were presented to parliament to enhance Maltese institutions and strengthen our country's reputation.
The Labour party keeps regenerating itself, pushing for a more progressive society, tackling issues such as divorce legislation, sexual health, the personal use of cannabis and the need to create more gender equality in parliament and beyond. At the forefront of these discussions were Labour Youths and Labour Women. They helped bring about much needed legislative changes in these areas, including the gender corrective mechanism, designed to end the male dominance of parliament, which was used for the first time in this election.
The Nationalist Party (Partit Nazzjonalista, PN – EPP) in opposition has lacked any kind of vision since its heyday of campaigning for Malta to join the EU in 2003. Simply, it has been taken over by conservative forces opposing everything under the sun – emergency contraception, civil rights and gender-based violence legislation. It tried to embark on a populist route, often criticising Covid restrictions, echoing anti-vaxxers and ridiculing the government's incentives of vouchers as an economic stimulus for business last summer and, more recently, government financial assistance to cover the higher cost of living.
A stark contrast was presented by the Labour Party under a new party administration. The newly elected Deputy Leader, Daniel Micallef, embarked on a process called '100 Ideas' in the summer of 2020. This led the party to engage with hundreds of individuals, NGOs and social partners across the island. This consultation founded the ten pillars which, eventually, were to be the platform for PL's manifesto, launched a few weeks before the election. It was a carefully crafted document of 1,000 proposals, with a progressive vision from Labour of how to focus on Malta's environmental, economic, and social recovery.
Abela noted how these 1,000 proposals had to become 1,000 achievements. Major pledges include 700 million euros for urban green lungs, corporate tax cuts, year on year increases in pensions and student stipends, free contraception and IVF treatments as well as internet access and laptops for children in low-income families. Other pledges give incentives for Maltese to become homeowners, either by easing the down-payment burden or by facilitating loan repayments.
This election was characterised by political fatigue, the war on Ukraine and Covid restrictions. However, the stark contrast between Malta's political parties is evident. Despite a historically low turnout for Malta (86 per cent), the people elected Labour back to power with an increased majority. Both sides lost some old faces while people have voted in fresh blood, enabling Abela to choose the youngest cabinet in history. While this election is one for the books for the Labour Party, it shouldn't get too comfortable. Labour must remain sensitive, humble, and welcome the public's opinion, whether it is praise or criticism.
But one thing is clear: progressive politics works. A vibrant economy, social reform, equal opportunity, and a caring society can be easy bedfellows. A third term of Labour needs to be just as inventive and creative as the previous two, because it is the way to advance society and win approval at the ballot box.
Photo credits: Partit Laburista
---
Related articles:
Malta: a new Labour administration yet again, by Aaron Farrugia