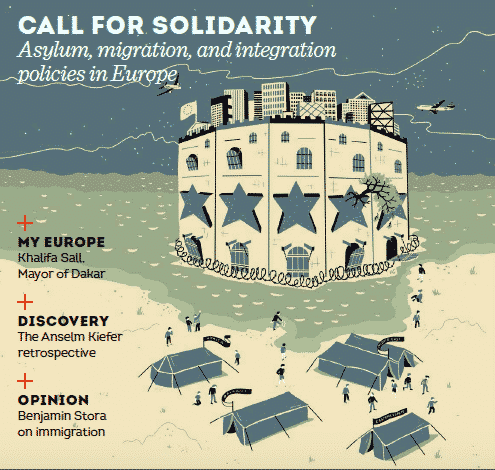 An Unprecedented Humanitarian Crisis
Both the UNHCR and Amnesty international have deplored the thousands of deaths of people desperately trying to escape war and poverty (it is estimated that about 2,500 people have died since the beginning of 2014).
As this figure shows, we are facing an enormous tragedy that concerns us all. The Right has tried to exploit this tragedy, saying that it is merely an issue of illegal immigration. We know that this is far from being the case; it is in fact the migration of people fleeing from bloody conflicts and wars, from cruel and violent authoritarian regimes. The most striking example is that of the crises occurring in Syria, Iraq and Libya. This region is one of the most tormented on the planet, a situation that the Islamic State's ruthless attacks are exposing and making worse each day. The instability of this region has inevitable repercussions on our countries, in terms of both humanitarian and security concerns. This is why it would be a most serious mistake to neglect the complexity of what is going on in the European Union's southern neighbourhood.
Against this backdrop, it is a shame that the European Union lacks a truly common asylum policy. Why do we need a genuinely common asylum policy? Because we cannot keep leaving the responsibility for humanitarian rescues and aid—as well as security—to peripheral member states. Moreover, when faced with a huge emergency, the burden of offering asylum to refugees should not weigh only on the shoulders of the usual few countries, but should be shared among all member states. Since last January, Germany has received about 82,000 asylum applications; Sweden 45,000; France almost 30,000; and Italy almost 25,000. Of course, a common asylum policy also requires the harmonisation of the member states' asylum policies.
Immigration is one of the issues that will test the European Union's solidity as well as its respect for the values on which it was built, those which form its heritage. Europe cannot give up on its role as one of the main actors on the international scene, particularly in a region that is just beyond our common borders. The issues of the conflicts occurring close to our frontiers (which are a matter of EU foreign policy), security and the management of immigration are closely interconnected. The European Union and its member states should face them organically.
The way in which the EU will face these challenges will impact, on the one hand, the very process of European integration, and, on the other hand, its projection and credibility on the global scene. Last but not least, it will affect its capability to uphold and promote its principles of tolerance, solidarity, inclusion, and respect for human and civil rights.