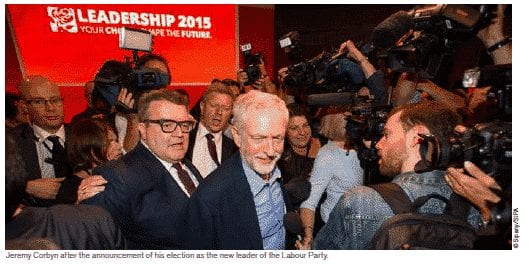 The remarkable insurgency that led to Jeremy Corbyn's victory in Labour's ensuing leadership election had little if anything to do with Europe. But Europe has already played a crucial role in defining his leadership, with helpful results, somewhat improbably, for the pro European cause in the coming referendum.
This leadership election was Labour's first full-throated experiment in 'one member, one vote' direct and open democracy. Corbyn won by a landslide in an electorate of 550,000 that had been greatly enlarged beyond the party's long-standing membership of around 200,000 on the basis of new rules never previously tested. This gives him an impressive mandate to lead the Labour party in a new direction that his opponents will have difficulty in challenging.
The process bore some resemblance to the open primary of Socialist party supporters in which Francois Hollande had emerged as the PS's undisputed candidate for the French presidency – but not much. Because the election was so rushed, as a result of Ed Miliband's impulsive decision to abandon ship, no systematic effort was made to recruit the millions who had been canvassed as Labour supporters in the weeks and months before, despite the fact that Labour had the computerised records to make this possible.
THREE CAMPS
Instead the new recruits to the Labour electorate fell into three main camps:
First, trade union affiliate voters were recruited by paid phone banks, with the largest effort being financed by Len McCluskey's Unite, explicitly motivated by its wish to rally support for the union's anti-austerity nominee, Jeremy Corbyn.
Second, former Labour party members rejoined the party in a flush of renewed enthusiasm. Many of these are ageing more than young, and come from a groups long disillusioned with the New Labour hegemony of the past two decades. A small minority are Hard Leftists and former Trotskyists who had long given up the ghost, or even been expelled or barred from public office in the late 1980s and early 1990s, but their numbers were swelled by a much larger group who were disappointed by what they saw (part fair, part unfair) as Blair's limited achievement in government despite his overwhelming mandate, the disaster of Iraq, and the general sense of drift, lack of vision and mission that set in after 2005. For this group, Ed Miliband made matters much worse by rubbishing New Labour but proving incapable of offering a more compelling alternative.
Third, there were the £3 registered supporters, largely recruited through social media, who wanted to stick up two fingers to established politics (and one can understand why) and for the first time could do it painlessly through a couple of clicks on their tablet device.
Corbyn was the beneficiary of what became a tidal wave. For many who supported him, the fact that he had been an MP for thirty-two years and never exercised any position of responsibility (other than devotedly representing his Islington North constituents) was a recommendation, not a cause of doubt. They were indifferent to his record of support for recherché left-wing causes and in British terms, his unusual and eccentric if not dangerous worldview. The fact that Corbyn has held views consistently which pollsters will argue that on any objective analysis, guarantee his total 'unelectability', counted for nothing. Corbyn was helped by the fact that none of the other leadership candidates were seen to offer the necessary combination of vision and inspiration with electoral appeal. This proved to be a moment in Labour's history (and there have been others in the past) when being true to yourself and your values mattered far more than the demeaning and careerist question of how to win the power to secure real change. For a fleeting moment in our political history, Corbyn became a symbol of integrity and honesty as well as a vehicle for the rejection of establishment politics.
A TRICKY POSITIONING
During the leadership campaign, his opponents all challenged Corbyn on his long record of opposition to British membership of the European Union. They sensed a weakness in Corbyn's position with party members and supporters. But Corbyn was allowed to dodge the question. He was not forced to explain why he thought it right potentially to line himself up alongside Nigel Farage, a phalanx of Eurosceptic Tories and right-wing press proprietors in wanting to pull Britain out of Europe. Instead throughout the campaign, he got away with equivocation. He was not going to commit to one side or the other in the referendum until he knew the terms. He was not going to offer David Cameron a blank cheque in his renegotiation.
Corbyn complained of the treatment of Greece, the presumed risks of a neo liberal TTIP, and the intentions of Cameron, or at least many Conservatives, to unwind European social legislation. However he did not condemn the EU out of hand, as he would regularly have done in the 1970s, 80s and 90s, as a capitalist club, with a free market ideology and rules that would obstruct the implementation of socialist economic policies in the UK. For he must realise that the world has moved on, there are divided views about the European Union on the far left, and not many of his close friends and allies are any longer prepared to argue for a national strategy of socialist protectionism, which is essentially what Tony Benn's alternative economic strategy in the 1970s and 80s amounted to.
The Monday morning after Corbyn's extraordinary victory on Saturday September 12th, this equivocation came to a head. The newly appointed Shadow Foreign Secretary, Hilary Benn (a 'Benn, but not a Bennite' as he happily describes himself), was interviewed on the Today programme. Asked where Labour now stood on the Europe referendum, Benn stated without any qualification that Jeremy Corbyn would campaign for Britain to remain a member of the EU whatever the outcome of David Cameron's renegotiation. At Corbyn's first encounter with Parliamentary Labour Party as its Leader that same evening, many members came away alarmed, having gained a different impression. After two days of speculation, Pat McFadden agreed to remain Shadow Minister of Europe having secured an unequivocal statement from Corbyn that under his leadership, Labour would campaign for a vote to remain. Corbyn agreed to back Alan Johnson as leading a distinct and official Labour pro European campaign.
STICKING TO THE WORD
Leading pro Europeans in the party are confident that this positive position will now hold. It could still come under some pressure from the trade unions if Cameron's renegotiation is seen to weaken social rights. But it sailed through Labour's conference without a voice being raised in opposition to Labour's support for our continued EU membership: a remarkably strong and encouraging consensus bound the conference hall together. There is a new confidence that Corbyn will stick to his word. Instead Labour will campaign to 'reform' in a socialist direction as Corbyn set out in an article in the Financial Times: the problem will then be how many allies for his new approach Corbyn can identify not just among the centre-right governments who now dominate the EU, but amongst other mainstream social democratic parties.
So where does all this turmoil leave Labour on Europe? Paradoxically, possibly in a better place than if either Andy Burnham or Yvette Cooper would have won the leadership. While they are both strong instinctive pro Europeans, they would have come under immense pressure from Labour MPs fearful of UKIP to downplay Labour's European commitment: the likelihood is that they would have compromised in some way with that pressure, particularly on immigration. Corbyn will not want to venture down the road of appeasing anti-migration populism: his only concession to that strand of opinion will be to campaign against 'social dumping'.
Corbyn however will not be a particularly effective spokesperson with the public of the case for Britain's EU membership in the referendum. He is not the kind of leader of the Labour party who would appeal to, or persuade to go the polls, what is left of Labour's traditional working class base, which may otherwise be tempted by Nigel Farage's populism or sunk in apathy on an issue that excites them little. On the other hand, Corbyn's position of formal support for Britain's continued membership makes it difficult for other voices on the Left and in the trade unions to campaign credibly for Brexit. Also Alan Johnson is potentially the Labour politician with the widest public appeal best able to make the pro European case. If the outcome is to bolster Johnson's confidence in the affection and respect in which he is held among the public, so much the better for Europe and the Labour party.