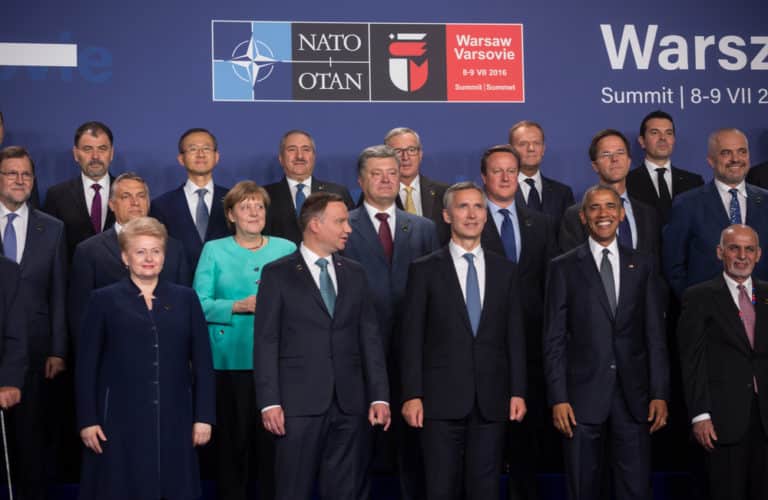 Donald Trump and the Transatlantic Alliance
Trump's view of allies and trade represents an existential threat to the transatlantic alliance. That threat comes less from the inconsistent policy positions he has taken in the campaigns than from some of his core beliefs that stretch back decades.
Transatlantic relations have long been predictable, even boring. Even their dysfunctions and disputes are ritualised and repetitive ― something that makes life difficult for analysts and journalists looking for new or exciting material. But it has served the interests of the transatlantic partners fairly well. In geopolitics, repetitive, boring disputes at summit meetings are in fact an amazing and historically rare achievement.
But now, for the first time in generations, the very concept of "alliance" is being called into question by Donald Trump, who has been clear that he views the alliance in instrumentalist terms. Unless the alliance is radically reshaped, Trump claims that America will simply walk away from Europe, leaving it to deal with its problems on its own.
Of course, a desire for more equitable burden-sharing has been present in American foreign policy for decades. President Obama's pivot to Asia reflected the notion that Europe was not capable of dealing with its own problems and that the excessive American military presence in Europe had led Europeans to neglect their own forces.
US Secretary of Defense Bob Gates ended his tenure in office in 2011 with a blistering attack on European irresponsibility in defence:
"The blunt reality is that there will be dwindling appetite and patience in the US Congress, and in the American body politic writ large, to expend increasingly precious funds on behalf of nations that are apparently unwilling to devote the necessary resources […] to be serious and capable partners in their own defence."
To this he added that there is a "real possibility for a dim, if not dismal, future for the transatlantic alliance."
America's best partners
But comparing Obama and Trump shows what is new about the President-elect. Previous US efforts to equalise the security burden, including Obama's, have always been based on the notion that America's best partners are democracies, that its own prosperity is derived from a broad global system of trade and investment, and that Europe's security must be protected — by Europe if possible, and by the United States if necessary. Previous post-war American presidents have explicitly looked for a more equitable partnership with Europe, but they believed that Europe's security and prosperity were a core interest of the United States and have therefore been wary of abandoning Europe and leaving it to its own devices.
This bargaining approach, in which America's commitment to Europe is never questioned, has weakened US leverage. Implicit in the current approach is the assumption that the United States will take up whatever slack Europe leaves behind. And so Europeans end up free-riding on American security guarantees. However, the current model also reflects a historically sound belief that the United States does have a stake in European conflicts, and cannot ultimately stand aside from them.
Isolation from the problems of others 
Trump, in contrast, believes in walls and in oceans. In his view, America can and should stand aside from problems in other regions. For example, Trump doesn't believe that the US should offer assistance on the European refugee crisis, because "we have our own problems". Unlike any US president since Harry S. Truman, Trump doesn't believe that America has special relationships with countries because they are democracies. After all, he sees democratic nations as inherently weak. Instead of being lambasted by weak democratic allies, he believes he can formulate individual deals with authoritarian leaders that can better support American economic and security interests.
Trump's views on allies, on trade, and on authoritarian leaders are fundamentally at odds with the decades-old principles of transatlantic relations. His volatile temperament and his tendency to ridicule allies means that he would bring a new and damaging tone to transatlantic diplomacy.
It would be the height of folly to assume that winning the presidency will change Trump's core beliefs or finally subdue his ego.