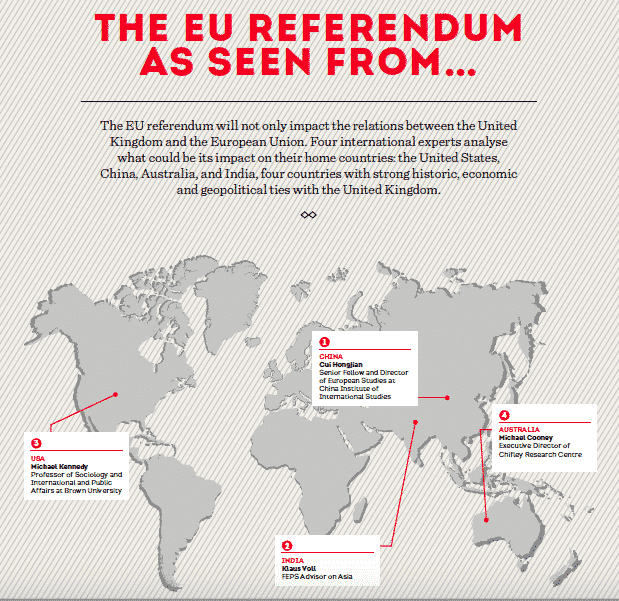 EU Referendum: A Moment of Confounding Significance
An 'in-out' referendum on UK membership of the European Union in 2016 could fall within weeks, or even days, of Australia's next national elections, which can be expected no later than September or October next year. Brexit – or its rejection – would be a moment of confounding significance in Australian politics and culture.
Few Australians seriously dispute the essentially benign role of the UK in global society – and the relationship between Australia and Great Britain is hugely significant. Investment and trade flows remain vast, human connections are ubiquitous: indeed the two most recent Australian Prime Ministers, Tony Abbott and his predecessor Julia Gillard, were born in the UK. There are few cities 'overseas' where Australians feel more at ease than London. Politics in the two countries is closely aligned; the recent referendum on Scottish independence, UK election and Labour leadership contest was widely watched in Australia and the flow of labour and conservative political advisers between the UK and Australian parties is hard to imagine between many other nations. Precisely this attentive amity makes the prospect of Brexit a significant one for Australian politics.
At the same time however, no one could doubt that the cultural differences between the two societies have widened immeasurably over the past seventy years. And many tensions in Australian society resting on disputes about the historic political, diplomatic, military, and trade relations between the two nations would be strongly reflected in reactions to Brexit itself.
Australians still hotly debate the role of the UK in committing Australian troops to the tragic failed Dardanelles campaign of the First World War, the failure of the British to secure Singapore and the efforts of Churchill to direct Australian troops to the defence of Burma rather than the defence of Australia in the darkest years of the Second World War.
Equally, the role of British banks in imposing harsh austerity upon Australia during the Depression, and later the entry of Britain into the European Economic Community, have long been offered by critics of Great Britain's role in Australian national development as moments of abandonment. The collapse of the special role of the UK as security guarantor with the fall of Singapore is sharply felt but perhaps of even greater significance in conservative and rural Australia was this symbolic disappearance of the UK's place as an export market of last resort.
Of interest is that among Australians whose family origins are in the British Isles, these historical resentments are not only associated with the large minority of Australians of Irish-extraction whose bitterness is not adulterated by surprise. Rather, these tensions are frequently expressed by anglophile loyalists who 'expected more'. Until recent years, these many Australians who once considered the UK 'home' could still express surprise at the indignity of being considered 'other' for the purpose of entry to the UK at airports and border control, and at the contrasting sight of EU passport holders gaining preferential access.
Just as the UK's long progress to ever-closer union with Europe has reinforced modernising and cosmopolitan tendencies in Australian affairs, and provided a powerful economic and emotional argument for Australia's embrace of Asia both as marketplace and neighbourhood, the Brexit debate looms as a potent proxy for considering Australia's future in what the former Labor Government described as the Asian Century.
For Australian progressives attached to a national future of growth with equity, expanded ties with Australia's region and confident self-determination, British engagement in Europe has long functioned as one of the ideal types for Australia in Asia. Brexit would be an inexplicable rejection of what once seemed an inevitable future.
For Australian conservatives, morally disapproving of Europe's debt and regulation and politically attached to what Australia's present Prime Minister likes to refer to as 'the Anglosphere', a British vote in favour of Europe would be more than an opportunity lost. It would see a new generation of Australian anglophiles abandoned yet again.