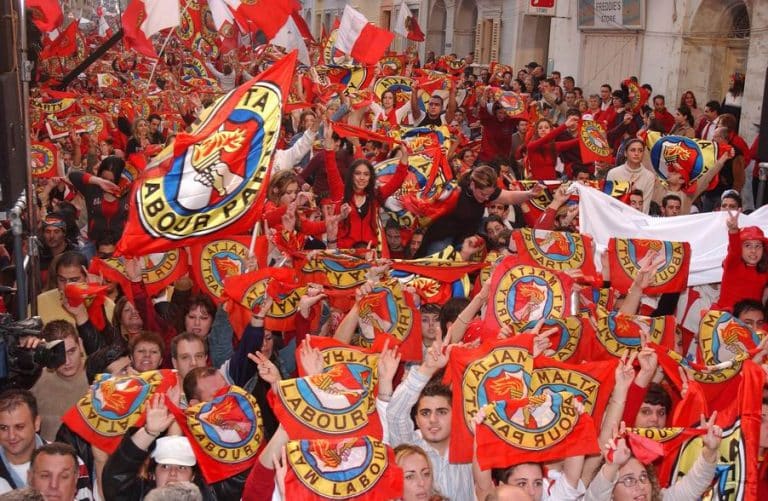 European election, national confidence
A large crowd gathered to celebrate victory outside the headquarters of the Malta Labour Party before any official results were declared. Minutes after the countdown began, it became clear that Labour was way out in front. In fact, nearly everyone was surprised by the size of the victory. Labour (PES) won 53% of the vote to 40% for the Nationalists (EPP).
The Labour Prime Minister of Malta, Dr Joseph Muscat viewed the result, achieved on a 75% turnout, as a vote of confidence in his 14-month-old government, not least because the opposition leader had asked voters to treat the poll in that way. There can be little doubt about the popularity of Joseph Muscat among the Maltese people. He reached out to all sectors of society to build a coalition of support, and has led from the front, tackling corruption, introducing social reforms, and delivering on his promises.
Labour won a landslide general election victory last year on a manifesto of reducing electricity bills by 25%, introducing free childcare, cutting income tax, bringing in civil unions and refunding VAT illegally charged on car imports. All have been enacted. And the economic performance of Joseph Muscat's government can't be underplayed. The economy is growing, banks are sound, investment if flowing in and unemployment is low.
The unease about the European project seen in other countries was not a feature of these elections in Malta, mainly because the issue was settled at a referendum 11 years ago when the country decided to join the EU. There is no debate about withdrawal, only about how to get the best out of our membership.
Five years ago only men were elected to the European Parliament from Malta. This time it is four women and two men. Malta uses the single transferable vote so the destination of the final, sixth seat was in doubt until the 66-hour count concluded. The Nationalists scraped in, meaning Labour took 3 seats (down one) and the Nationalists 3 seats (up one).