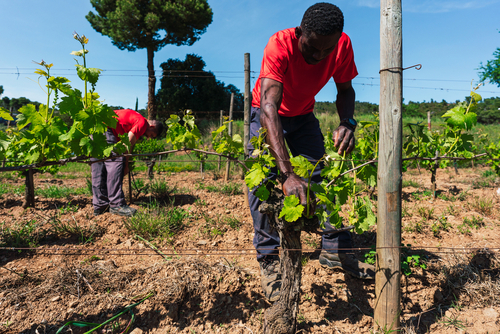 Exploited and marginalised: obstacles to integration and inclusion for migrant workers in care and agriculture
The pandemic has reminded the public that the EU relies on migrants to fill so-called 'low-skilled' but essential jobs and services in healthcare, food production, childcare, elderly care, and critical utilities. Migrants make up, on average, 13 per cent of the EU's key workers. This share is almost zero in Romania, Bulgaria and Poland, but reaches over 20 per cent in Germany and 26 per cent in Ireland.
This was why, in March 2020, as countries were shutting their borders to slow the spread of Covid-19, the European Commission called on member states to ensure that migrants in 'critical occupations' be allowed to move between countries so that essential services were maintained.
Critical jobs are physically demanding, strenuous and low-paid, which largely explains the disproportionate share of third country nationals doing them. Third country nationals outnumber EU migrants 2 to 1, making up 8 per cent of all key workers across the bloc. In 2020, non-EU citizens were over 4 times more likely than EU citizens to work as agricultural and fisheries workers, 3.5 times more likely to work as cleaners and almost twice as likely to work as personal care workers. And this is almost certainly an underestimate, due to the dominance of undeclared work.
Migration has become one of the most divisive political issues in Europe
According to the most recent Eurobarometer survey (2017), 30 per cent of EU citizens consider the impact of immigration on their country to be negative. 40 per cent do not believe that immigrants have a positive impact on the economy. Economic austerity policies implemented in response to the global financial crisis of 2008, combined with the subsequent arrival of record numbers of asylum seekers from North Africa and the Middle East, have helped galvanise strong popular opposition to migration across the continent. Set against a backdrop of growing rifts and resurgent right-wing populism, xenophobic depictions of migration as an economic and cultural threat have resonated with broader economic and social anxieties felt by millions of citizens.
Resentment and fear of migrants is often driven by media framings of migration issues rather than by first-hand contact experiences with migrants. Despite decades of immigration into Europe, over 37 per cent of EU citizens say they interact with non-EU migrants less than once a week. Exposure is particularly low in places where their contribution to host societies is most evident, such as workplaces and public services.
In Europe, the migrants who experience the lowest number of contact opportunities with local populations are often those who have low-status jobs and low educational attainment. These characteristics apply to many migrant key workers in the EU, including the majority of non-EU migrant workers. Ironically, we rely most on those migrants with whom we interact the least.
Contact with local people is critical for social cohesion
Social cohesion captures the degree to which collective values such as trust, fairness, inclusion, and commitment to the common good are upheld by society and its institutions. Societies that are more socially cohesive are more tolerant and less prone to polarisation and social strife. A socially cohesive approach to migrant integration policy facilitates positive relationships between migrants and locals, while ensuring that migrants enjoy equal access to social rights and economic opportunities.
A newly released four-country study by FEPS and TASC documents how the segregated living and working conditions of migrant workers across Europe undermine social cohesion and prevent them from engaging with local host communities. The study specifically focuses on migrant key workers employed in the agricultural and care sectors, many of whom are employed informally. These sectors tend to operate in a grey zone of labour enforcement and regulation, with little done to ensure that basic social rights and labour protections apply. Migrant workers commonly work and live in isolated conditions, such as remote rural settings (farms, food processing plants) or isolated private households. Despite the critical importance of agriculture and care, governments generally ignore the widespread breaches of labour standards in both sectors. Exclusion from rights and protections marginalises and exposes migrant workers to exploitation.
In Spain, for example, thousands of agricultural migrant workers live in informal settlements that the UN Special Rapporteur on extreme poverty and human described as having "far worse conditions than a refugee camp, without running water, electricity or sanitation, where migrant workers live for years without any improvement in their situation". Similarly, in Ireland, migrant care workers suffer some of the harshest working conditions in a sector where "low pay, lack of maternity payments, lack of savings to meet unexpected expenses and difficulty in affording a decent standard of living have all led to a situation where over half of [workers] are currently looking for another job and the majority do not envisage themselves remaining in the sector within five years".
Migrant workers, such as those described above, have no access to sources of support and information on labour standards and social rights. They are hard to reach for public labour inspectors, trade unions and NGOs. Their employers capitalise on this to engage in various exploitative practises: poverty wages, wage theft, unpaid overwork, and unpaid social security are extremely common. Although performing essential roles, migrants in the agriculture and care sectors are among the most socially excluded and economically exploited. Given these conditions, it is not surprising that they struggle to build supportive social networks and participate in local civic life. The absence of protections and exploitative treatment by employers are an obstacle to social cohesion in European host countries.
Demographic projections suggest that Europe's population will grow older and more educated in decades to come. European countries' reliance on migrants to perform low-status essential jobs will only grow. Policymakers will have to formulate effective measures to promote social cohesion in increasingly diverse societies where migrants play an ever more critical role. Regular collaborative interaction with migrants in volunteering activities, civil society organisations and recreational groups reduces prejudice and encourages more tolerant and positive attitudes towards migration. Therefore, facilitation of regular and positive engagement between migrant workers and local populations must be central to policy-making on integration.
Migrants who are actively engaged in civil society organisations, such as NGOs and trade unions, are better able to mobilise local networks of support and solidarity that enable them to improve their working and living conditions and enjoy better integration outcomes. The TASC/FEPS report highlights multiple recent examples of such collaborations. For example, in April 2021 Germany's Free Workers' Union (FAU) worked closely with 200 Romanian agricultural workers near Bonn to force local farmers to compensate the migrant workers for months of unpaid wages and benefits. In Ireland, the Services Industrial Professional and Technical Union (SIPTU) played an instrumental role advocating for improvements in migrants' working rights in both care and the agricultural sectors. Its involvement (along with several other large unions) in parliamentary debates following the Covid-19 outbreaks in Ireland's meat packing plants gave political voice to the concerns of migrant workers. Positive relationships between migrants and locals encourages migrants to develop stronger cultural familiarity and identification with their host societies over time. They also promote improved employment and educational outcomes, as well as greater political participation. A key policy takeaway from the FEPS/TASC research is that migrant participation in NGOs and trade unions must be a central goal of integration policy making because these organisations offer migrants an effective platform to interact with local workers, improve their working conditions and engage with the wider community. In other words, NGOs and trade unions are key partners in efforts to promote a socially cohesive approach to migrant integration.
---
Related articles:
Can the integration plan lead to greater coherence in EU migration policy? , by Andrea Stocchiero

Covid-19: exposing the missing link – the migrant health-integration nexus, by Jasmijn Slootjes