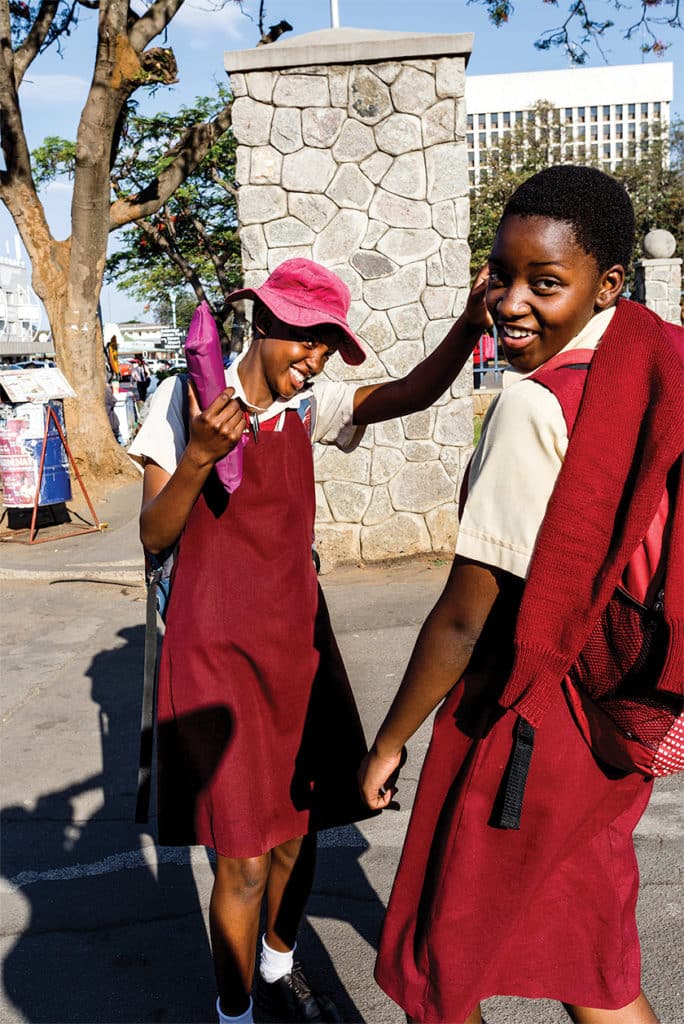 A fight for girls' right to education
Although gender equality in education is a fundamental right, girls still face discrimination and exclusion from classrooms in parts of the world. In Zimbabwe, the struggle for girls' access to education gave birth to a prize-winning project with the aim of improving the situation.
The inaugural 2016 UNESCO prize for girls' and women's education came with a huge "bang" pushing forward the women's and girls' educational empowerment agenda post-2030. My experience advocating for the advancement of education in Zimbabwe has been a tough journey due to the uncertainties which always prevail in our nation when it comes to priorities and preferences of young girls. Being one of the victims of the deprivation to the right to education in Zimbabwe, my zeal to end social ills within the tertiary education sector actually paved an opportunity for me to better understand my fellow girls.
In 2000, I was privileged to be elected as the Student Representative Council (SRC) vice president. I became the first female student leader in Zimbabwe to occupy such an influential post. At this time, privatisation of education was introduced in the country. Leaders in the Student Representative Council across the nation challenged the status quo through mass protests which eventually led to us being forced to leave college.
That was the beginning of my advocacy journey. With a life ban from registering in any of Zimbabwe's institutions I ended up studying at distance. As a girl, I also became an outcast in the family because they believed that women cannot be leaders. It became clear to me that this issue is a source of conflict within both family life and society at large.
Breaking patriarchal barriers
The empowerment of female students' ideology was later established and it came to fruition in 2005, and eventually gave birth to the then Female Students Network. Having the belief that "women can do it", the organisation took many strides towards improving women's and girls' right to education. Despite the fact that the environment we operate in is very hostile, the Female Students Network has succeeded in breaking some barriers of patriarchy which deprive girls of equal access to education due to multi-sector cultural, religious and traditional beliefs and practices.
Girls are mostly denied access to education because they are forced into early marriages. I have witnessed cases where female students are given second priority when it comes to higher-education because women are often perceived as objects, which subjects them to stigmatisation, discrimination and abuse. These gender disparities and stereotypes also lead to domestic disputes and violence.
Transforming gender perceptions
Globally and internationally, societies undermine women's and girls' capacities and potentials, and keep them from contributing to a sustainable, peaceful and equal development. We need to start at an individual, domestic and local level to transform perceived realities and gender-based stereotypes. But we also must work on a national and international level. How can peace prevail when female students are not given equal access to education?
How can we strengthen our societies with gender-sensitive leadership, and change the perception of women to being actors of change, not victims? Above all, the situation demonstrates the lack of fairness, social justice and political will which contribute to conflicts on both local and international levels.
Women are often more affected and put through more hardship than men in conflict situations. But it is important to remember that they are also powerful peace-builders. Their perspectives when it comes to security, peace and conflict prevention have been recognised by several international agreements and resolutions. The Nobel Peace Prize awarded to Ellen Johnson Sirleaf, Leymah Gbowee and Tawakkol Karman is public recognition of the impact of women peace-builders.
Above all, female students need to be aware of their rights, so that they can claim peace through defending their rights. I also believe that peacebuilding is a two-way process that requires both parties to be involved. It is hence vitally important to involve girls and women in becoming instigators and negotiators for peace.
Photo credits: ©Artush / Shutterstock.com