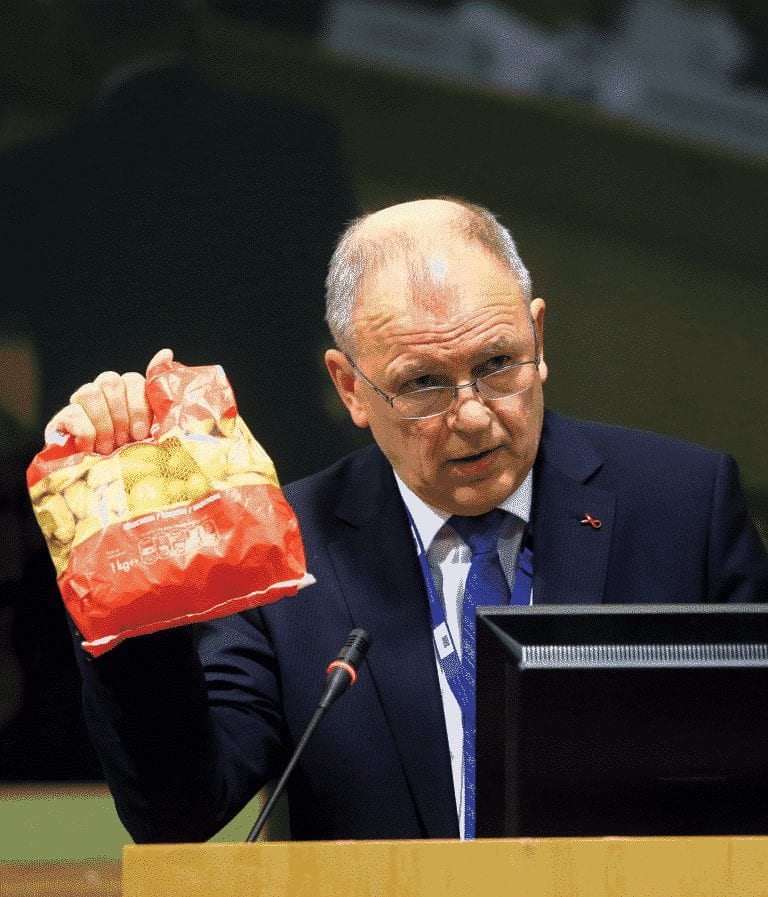 Fighting the absurdity of food waste: a moral obligation
Some numbers simply speak for themselves: it is estimated that almost 90 million tons of food waste are generated every year in the EU with related costs estimated at 143 billion euros.
As European Commissioner in charge of Health and Food safety, I find this simply unacceptable when at the same time 55 million people in the EU cannot afford a decent quality meal every second day and 800 million people in the world go to bed hungry each night.Food waste also puts unnecessary pressure on the environment: if food waste were a country, it would be the third largest emitter of greenhouse gases (surpassed only by China and the United States)!
This is why the fight against food waste is now high on the agenda of the European Commission. It is singled out as a priority area in the Commission's Circular Economy Package adopted late 2015 to stimulate Europe's transition towards a circular economy which will boost global competitiveness, foster sustainable growth and generate new jobs. This package also reaffirms the EU's commitment to reach the global Sustainable Development Goal "12.3" to halve food waste by 2030.
In recent months, a string of measures and actions have been launched in order to make progress towards the Sustainable Development Goals. And measurement is at the heart of food waste prevention: we need to understand where we lose food resources, how much we lose and why, in order to build effective food waste prevention programmes.
Measurement as a prerequisite
Today, EU data on food waste levels is insufficient. The Commission's waste legislation proposal attempts to address this gap by requiring Member States to reduce food waste all along the food value chain, monitor levels and report back on progress made. In order to support these efforts, the Commission will elaborate a methodology for measuring food waste consistently at each stage of the food value chain, in cooperation with Member States and actors in the food value chain. In a nutshell, measurement is a prerequisite for effective and targeted action.
In order to accelerate the EU's progress towards the Sustainable Development Goals, the European Commission has established a unique multi-stakeholder Platform on Food Losses and Food Waste, bringing together key players from 70 organisations representing Member States governments, industry, consumer associations, food banks and other NGOs, as well as international organisations.  The Platform – created last summer and kicked off in November 2016 – aims to support all actors in taking effective action to fight food waste.
My objective as Commissioner is very clear: I want the EU to become a global reference by leading efforts to fight food waste. For this reason, at the first meeting of the Platform, I challenged all members to implement national food waste prevention programmes by the end of 2019.
In addition to the methodology and Platform, we can also take actions at EU level. In this respect, the Commission will act in line with the food hierarchy approach: first working on the prevention of food waste, second on the donation of edible food and finally on its reuse as feed. In line with this approach, we are analysing how to promote a better understanding and a more effective use of date marking on food. We will also develop EU guidelines to facilitate food donation and the safe use of food not suited for human consumption for production of animal feed, an area in which the EU is greatly dependent on Third Countries' imports (and which has an additional environmental and economic impact).
The Danish example
In this endeavour we are not starting from scratch. Some Member States have been quite active in recent years, adopting measures which could be inspiring for other countries.
Take Denmark for instance, where a number of food waste prevention initiatives have been launched at consumer, retail and food services levels (i.e. "Stop Wasting Food", or "Nulskrald AVV", a municipal initiative targeted at consumers to prevent food waste and promote waste recycling in general). Public authorities such as the Danish Veterinary and Food Administration support food waste prevention, for instance by providing practical guidelines and tools to help food businesses assess whether and under which conditions foods about which they are uncertain may be sold or used again in the business.  Consumer information campaigns include guidance on the meaning of "use by" and "best before" dates found on food labels. According to figures published by Danish trade magazine (Dansk Handelsblad) and Danish Agriculture & Food Council, food waste has been reduced in DK by 25% since 2010.
The example of the United Kingdom is also interesting, as it has one of the most extensive estimates of country-level food waste in the world. The UK achieved a 15% reduction in household food waste between 2007 and 2012 and recently launched a new voluntary agreement, the "Courtauld Commitment 2025", to reduce food waste by a further 20% across the whole food supply chain.
France has equally been very active on this front and, in 2016, adopted measures to prevent supermarkets from throwing away or destroying unsold food and instead donate it – under certain conditions – to food banks or, when not suited for human consumption, valorising these food resources for production of animal feed. The measures are part of a national food waste prevention programme that aims to halve the amount of food waste by 2025.  Some supermarket chains have launched their own initiatives to prevent food waste, for instance by encouraging consumers to buy imperfect fruit and vegetables, or by using apps to offer products nearing expiry at discounted prices to their customers.
In Italy, a series of national measures, including further promotion of food redistribution, were adopted last year as part of a new law aiming to reduce the country's total annual food wastage by one million tonnes.
As we can see, food waste reduction is a growing concern in the EU, but its prevention requires action at all levels: global, EU, national, regional, local, and even more in your own house where most of the food waste happens! I therefore challenge all key actors in the food chain to change their habits and practices in order to save precious food resources.
Rethinking our food systems might seem a daunting task requiring a significant amount of effort, but it is our moral obligation to meet this commitment with creativity and co-operation. I hope that we can spread the sense of urgency that tackling food waste so clearly demands.
If we all learn how to appreciate and value the food we eat once again, I am sure that we can take great strides in the fight against food waste in the EU. Let us all become food waste heroes to rescue food for people, protect our planet and fight for progress.