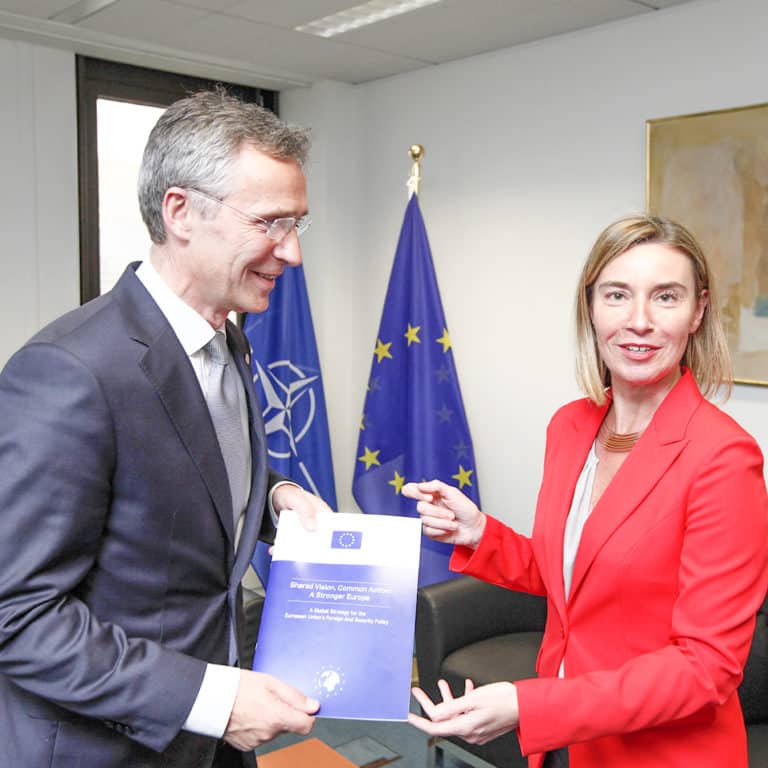 Foreign policy: No longer a subject of division?
Interview with Nathalie Tocci, special advisor to EU High Representative Federica Mogherini, by Alain Bloëdt, Editor-in-Chief of The Progressive Post.
— In a context of economic crisis, do you think that the EU Global Strategy interests European citizens?
Nathalie Tocci: Rising insecurity is a concern for European citizens. The EU no longer projects peace and stability beyond its borders. It is more a question of the EU importing insecurity within its borders, although obviously much of the insecurity we are seeing within the EU – terrorism being the most obvious case – has its origins outside. Probably more than ever before, foreign policy which used to be the preserve of a few elites, is now a concern for European citizens because it touches their lives. Terrorism, extremism, energy security, migration and indeed financial turbulence are concerns for citizens, but, generally, they do not make connections with foreign policy. It's the job of policymakers to do that.
— At this moment of internal division, is foreign policy a way to rejuvenate the European project?
Nathalie Tocci: Foreign policy has traditionally been an area of division between member states: we know the history of the attempts at integration in this eld. But today it is one of the areas that least divides them. We are far more divided on issues like the economy and migration than we are on foreign policy.
They realise they cannot go it alone. Probably for the first time in EU history, there is an appreciation that while we may not necessarily like it, we need each other in foreign policy.
— Why are you so optimistic?
Nathalie Tocci: I am optimistic about greater cooperation because among member states, there is a growing appreciation of the scale of the challenges we are facing in foreign policy and more broadly in security policy. They realise they cannot go it alone. Probably for the first time in EU history, there is an appreciation that while we may not necessarily like it, we need each other in foreign policy.
— In concrete terms, what does the new Global Strategy change?
Nathalie Tocci: In contrast to the 2003 strategy, which only presented a vision, the new EU Global Strategy tries to propose actions. The strategy is called global for both geographic and thematic reasons. Geographically because it is the first time that we have a strategy with a global reach, even if the main interest remains surrounding regions. In terms of action, as we know, there is a structural problem. The EU will never act in the same way as the USA or Russia. But this can be a positive thing. We may react slowly sometimes but we tend to avoid doing stupid things!
— If we take the issue of development, both now and in the past, the EU is not and has not been visible.
Nathalie Tocci: A couple of months ago, when I was looking at the results of a foreign policy instrument survey on how non-Europeans look at Europe's action on an international level, development was the least visible. There is something wrong here. We're the ones spending the most money and no one has noticed.
— Why don't you employ a communications agency?
Nathalie Tocci: The problem isn't just about communication; it's also about being more political. Thinking of trade, thinking of development, thinking of energy: these issues are political instruments and not just technical instruments.
— There are already commissioners for trade and development. Is there a risk of interfering with their responsibilities?
Nathalie Tocci: It is a gradual process. Already in the development community, there is a great appreciation of the need to be more political and it is not just a European issue. If we think about the sustainable development goals, they are far more political than the previous ones.
— Can we expect to see an EU army in the future?
Nathalie Tocci: Citizens want to feel safer, and do not care whether security is built by a European army or by a non-European army. We need to start by assessing what does not work. We have 28 bonsai armies in the EU and we need to develop de- fence capabilities together, not for ideological reasons but as a matter of effectiveness. It's also about structure. In order to carry out our existing missions or operations, we need a better structure.
— To a certain extent, the Euro currency makes people feel more European.
Could an EU army also make a difference?
Nathalie Tocci: The symbol has to come with the communication. From a political perspective, do something that delivers. Fix the problem then find a way to sell it.
— Could the Global Strategy push Europe to play a stronger role in the Middle East?
Nathalie Tocci: We have a big responsibility in the current situation. But we do not have the power to fix it. At the same time, we cannot wash our hands of it, we have to take on responsibility and the consequences of this implosion, which are coming to us. Europe can try – and only Europe can do that, the US cannot – to strengthen the resilience of countries that have not imploded yet, like Tunisia. We can also create a framework for more cooperative regional networks. We played a huge role in the Iran nuclear deal, for instance.
— Talking of resilience, how can Europe export a model that is in crisis?
Nathalie Tocci: In terms of values, we have to completely change our approach. It is not about us imposing our values on anyone else. We tried, we did not succeed and anyway, it was not a good idea. What we have to do is to live up to our own values in the way we engage with others. The world takes note. Just look at how we are dealing with the so-called refugee crisis. The best thing we can do, if we want to have a credible role beyond our borders, is to do put our own house in order.
— What is your position on the Turkey deal?
Nathalie Tocci: Clearly, it's not a good result. If we think about the reasons for the EU-Turkey deal, it is precisely because we are not doing enough work at home. It is not in our interest to pursue a purely transactional approach to our relationship with Turkey on an issue like migration. Does it mean that all is bad? No.