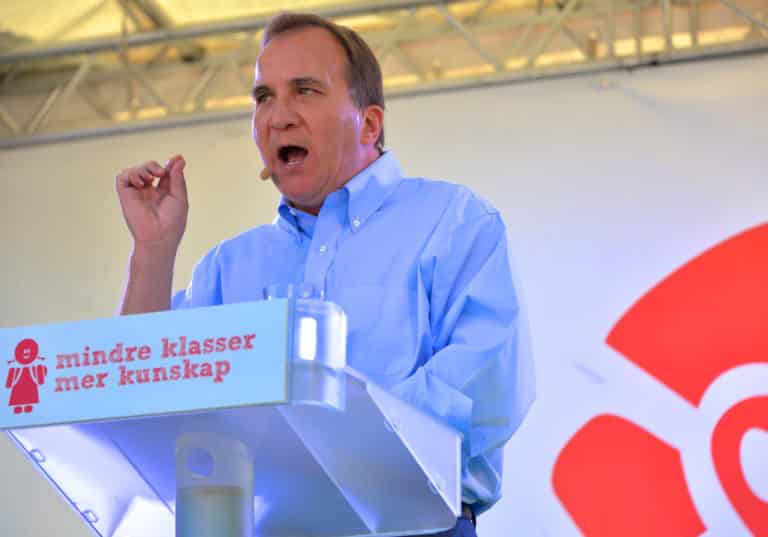 From welder to progressive leader
From 1925 to 2006, the Swedish Social Democratic Party (SAP) had five different leaders, a position that always came with a second job: prime minister. After eight turbulent years in opposition that have seen two party leaders come and go, 2014 offers new hopes, with both European and national elections. It can be the SAP's 'comeback year' and it is largely up to Stefan Löfven: a foster child who went from welder to major trade unionist to party leader – and soon prime minister?
Stefan Löfven's office at the Swedish parliament – the Riksdag – is as formal as you would expect. But ask him why the welder became a trade unionist and his story will take you back to the environment of a machine shop. At Löfven's first job as a welder, labourers had to sit along the wall on toolboxes while the clerks had tables and chairs. "A simple screen was supposed to separate the machine shop from where we ate, so you had to cover your food from the metal shavings flying around", Löfven recalls.
He knew there were spare chairs and tables at the company's educational centre, and asked if he could borrow them for his workmates. "That's how everything started," he says. If you ask him to motivate his practical action in political lingo, you will get a credo that also inspired his step into politics: all human beings are born free and equal in dignity and rights. "If there's one thing that makes me upset, that's when a human being is treated badly – or when a group of people are treated worse than others. That goes right here," he says, pointing at his heart.
The paradox of Löfven's office at the Riksdag is that he is not one of its members. When he was elected as party leader in January 2012, he was still holding the position where his long journey as a trade unionist brought him: president of IF Metall, the union of metal workers. "Everything tended to be more direct in the union," he says when asked about his entry into politics. Indeed, Swedish parliamentary life has become more complex since the Sweden Democrats – a xenophobic populist party with roots linked to neo-Nazism – became part of the Riksdag in 2010.
The Moderates, the conservative party turned centrist by current Prime Minister Fredrik Reinfeldt, led a majority government with three smaller centre-right parties from 2006 to 2010. His coalition was re-elected in 2010, beating a red-green alliance led by Mona Sahlin. But the entry of the Sweden Democrats meant that Reinfeldt's government had to carry on as a minority government. As a result, Reinfeldt's second term has been lacklustre at best – something that Löfven would like to avoid. "We have seen how the political right, both in Sweden and in other European countries, has undermined the welfare state. The growth of both xenophobic and populist parties is the result," he observes, regarding the challenge ahead.
Back to basics
The main task for Löfven in 2014 is therefore to win in a way that would enable him to govern – and win again in 2018. Therefore, the SAP will not enter a formal alliance before the election, hoping to regain its position as the sun around which the other parties turn. Löfven states that he is then ready to cooperate with his natural allies – the Greens and the Left party – but also with the Liberals and the agrarian Centre party that are part of the current government.
The key in such a scenario is the SAP's election score, recently set by the party at a minimum of 35% of the votes. Löfven has also set another ambitious goal for its return to power: Sweden shall have the lowest unemployment rate in the EU by 2020. Currently nine EU-countries have lower unemployment than Sweden, where youth unemployment, which reaches 25%, is a major problem. In addition to the focus on jobs, the SAP has managed to regain trust in its educational policy, fuelled by reports of Sweden's free-fall in the global Pisa education rankings. Among the policy proposals, reducing the size of school classes by five pupils and a 90-day guarantee for unemployed youth have earned praise. "If you become unemployed, you will get help from day one, and within 90 days you will be in educational training, practicing at a workplace, in a regular job – or in a combination of these," Löfven explains.
The SAP has accepted most of the huge tax cuts made by the current government, but fixing the nowadays-hollow welfare system will be costly. It is not yet sure if the election will be framed as "reforms vs. tax cuts", yet Löfven has one important friend: the general urge for change. After eight years, many voters seem to have had enough of tax cuts. The attention is turning to what The Economist has called "the silent revolution" – the deregulation of the welfare state, where private companies now run schools as well as elderly homes and nurseries.
An additional concern is the growing inequality. According to a survey of its members by the OECD, Sweden is the country where income inequality has increased the most during the last two decades. Löfven turns directly to equality when asked about his basic political values. He quotes the guiding clause of the SAP party program and underlines the most important words by gently knocking on the table in front him. "It's all in here. Democracy before the market, equality and solidarity going hand in hand, the creation of a good life for citizens."
The welder's approach
A life at the Swedish Metal Workers' Union implies – maybe surprisingly for some – that Löfven embraces globalisation and trade, and he regards the EU as a possibility as long as workers' rights are improved, not threatened. He impresses business people on a regular basis, both home and abroad, with his knowledge of innovation policy, the rebirth of industry and its integration to the service sector, and the need for venture capital. Contrary to many left-wing politicians, he seems to prefer talking about what he calls the "obligatory program" (a growing economy), compared to the easy part of spending money on reforms. "We have come a long way," he says. "We have a lot of new reforms, but also active industrial policies to make the economy grow so that we can pay for them." To underline the modern touch that the SAP tries to add after the turbulent years in opposition, the old party of the industrial age now labels itself "the party of the future."
If the likeable welder can continue his on-going transformation to a statesman who enjoys political conflict over trade union consensus, Löfven might very well get the second job that leaders of the SAP used to have: prime minister. But a welder being on the brink of reaching the highest political office can provoke both curiosity and scepticism. Can a worker really become prime minister?
"History has proven that it is possible," says Löfven, recalling how Lula started as a shoe-cleaner in the ABC region outside São Paulo. Lula then became an industrial worker, a trade union leader, and finally the president of Brazil on his fourth attempt. "But I promise to win right from the first try," Löfven's quickly adds with a smile.