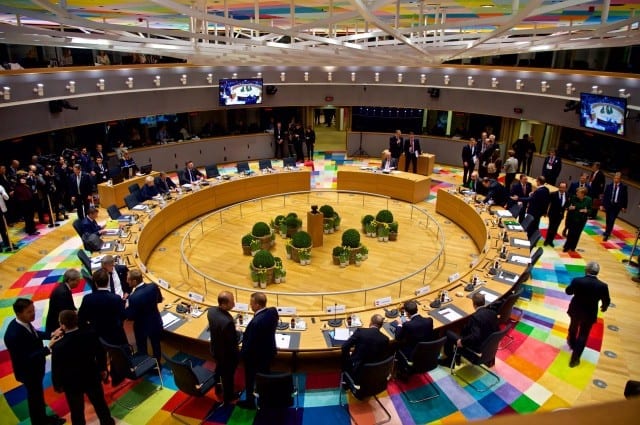 The Future of Poland in the EU is at stake!
The European Council meeting showed an insufferable indolence of the foreign policy of the Law and Justice (PiS) government of Poland. It is not about the fact that Donald Tusk – former Polish Prime Minister and practically the greatest political rival of J. Kaczynski – was re-appointed for the President of the Council. This election had de facto been determined ahead of the summit and hence after blocking it was not what Prime Minister Beata Szydlo was actually after.
The Summit exposed a great loneliness of the Polish government and the fact that its members do not grasp either mechanisms of foreign policy or the complex situation in which the EU finds itself today.
What was Kaczynski hoping for? Because it is about him, the President of Law and Justice, and not about the Prime Minister Szydlo, whom he assigned to the office and who only nominally heads the government of Poland.
One has to remember that for Kaczynski, foreign policy is a secondary matter. He does not know the EU and one can assume that he treats the Union with a lot of distrust, without sympathy and without a sense of belonging to its community. But while that is the case, he continues his battles within the framework of Polish politics and there he strives for hegemony. An obstacle on the way here has been, since 2005, the Civic Platform (Platforma Obywatelska, EPP) and its leader, Donald Tusk. They both – Kaczyski and Tusk – actually emerged from the same conservative stream of Solidarnosc (movement), having shared similar economic, social and hence political views. Even though they developed their subsequent agendas differently, in the essence standpoints of both determined that Poland has been grasped and confined within conservative claws. Both Law and Justice and the Civic Platform – who were close to becoming governmental coalition partners in 2005 – have enjoyed the rivalry that grew among them, as it pushed them into the centre of political stage and enabled marginalisation of the others. Especially now, when the opposition is as divided as it is, both parties are preoccupied with an idea that Tusk could return to Polish politics – which for Law and Justice could become a nightmare and reason for their failure, and for Civic Platform a key to ally with other parties under the banner of a united opposition.
On 9th March, Kaczyński, Szydło and Waszczykowski were not thinking about the challenges that the EU should respond to, they were not bothered about the crisis or, for that matter, raison d'etre of Poland. Instead, they were focused on the strategy that would cater narrow interests of their own party; and they contemplated a possibility of revenge (as Law and Justice blames Tusk for the governmental plane crash in Smoleńsk). They wanted to show that they have support within the EU for their policies, hoping to line up Hungary and UK to back them up in rejecting Tusk. This was not only personal, but was aimed at paving the way towards Europe of two speeds – where they could define the second, slower pace. That is because despite his ignorance about the EU, Kaczyński is aware that the Polish are in their majority pro-European, as also Poland as a country is a great beneficiary of the EU funds – thanks to which it was able to accomplish an unprecedented development and economic growth. In that context a simplified, anti-EU populist discourse stands no chance of succeeding. But, since in parallel the EU itself is considering the two speed solution, Law and Justice hoped to use the opportunity to show that this "second speed" should be defined alongside different priorities. Law and Justice would like to see this not through a prism of degree of integration, but rather though a prism of different values. The "second speed" EU should therefore be less about liberal democracy, human rights and cooperation – which are principles foreign to Law and Justice – but rather abide by radical right populism and nationalism. This kind of a divide would legitimise the policies that the Polish government forces domestically, sanctioning for example the Law and Justice anti-German phobia. Elevating this divide into a discourse of 'different speed, different vision' would also enable Law and Justice to argue why it is better not to be in the core, but remain at the peripheries.
But most obviously, this is the worst choice the Polish could ever make. Second speed means remaining on the fringe, stagnating and effectively regressing. In that sense, it could be seen that the Summit marks the beginning of actual political isolation. If that is to continue, Poland will derive from the path of social progress, will see deterioration of living and working standards. It is bound to have further repercussions, especially taking into consideration geopolitical situation of Poland, which especially now should prompt solidifying alliances for the sake of the state's security. But for Kaczyński it is less relevant, as he cares only about primacy of his party, about having an upper hand and about the perspective of the next elections.
The re-election of Donald Tusk is, in its essence, actually quite irrelevant in the context of domestic politics. It has a symbolic meaning and in fact it strengthens the conservative duopoly. It makes Civic Platform rise in its role of leading opposition, which will further mean marginalisation of all the other parties that are on its left side. It will use that position to blackmail the others – especially progressives – to avoid putting forward 'difficult' subjects, such as human rights, women's rights, transparency, redistribution, social justice or fighting against poverty and exclusions. They will argue that these should give precedence to the 'actual' fight against Law and Justice, which should evolve around their program and priorities. But one should not forget that this is the same programme, that framed the strategy of Tusk's governments and led to fragmentation of society, undermined labour standards, hindered human rights (Poland did not introduce Civic Partnership, did not ensure access to sexual education, did not liberalise abortion law and did not impose laic education).
From our perspective, in "normal conditions" we would say that this is another chapter of a chronicle of the fight between liberal conservatives of Civic Platform against radical right of Law and Justice. But these are not "normal" conditions, whereby the EU struggles with so many challenges and has difficulty to leave its multiple crises behind it. The Progressives should be aware that this is the moment to conquer the political mainstream and propose a tangible alternative for Europe.
For the progressive left in Poland the actions of the Law and Justice Government at the last EU summit mean that we are starting a battle of the future of Poland in the EU. While what is to come is unclear for the Union's leaders, it must not be forgotten that the decisions taken now will affect the chances for current and future generations. Therefore we must not allow that to grow more and more divided, hijacked by nationalists and their agendas – but instead must come forward stronger together to make it a community of democracy, empowerment, quality jobs and prosperity for all.