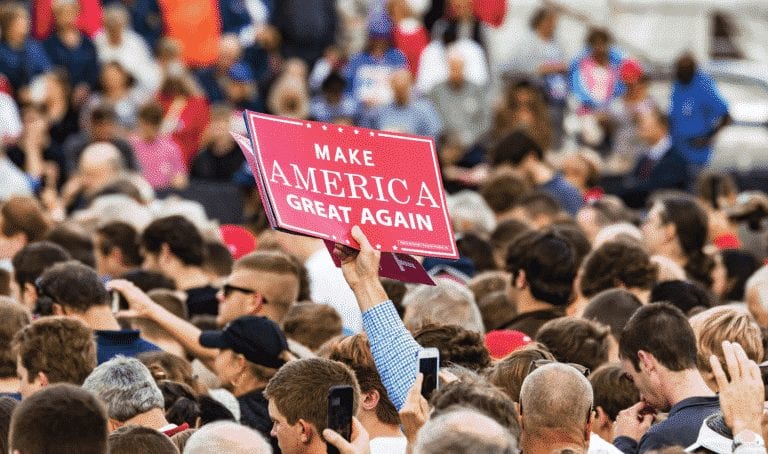 Making Europe Great Again: The progressive way
As we approach the celebration of the EU's 60th birthday, the European project has become more relevant than ever. This is not another cliché. Developments in the global scene and certain events that seemed unimaginable until recently are simply occurring on top of a financial crisis that revealed inherent weaknesses and continues to shake up political systems across the continent.
At this point and within the current context, the crisis has become truly existential with daunting consequences. The road ahead is undoubtedly a hard one and requires collective determination and action. At the time of writing, a simple internet search of the term "EU dissolution" reveals 18,900,000 results, while "EU in crisis" produces 152,000,000 results in less than half a second. This is surely a call to action!
On the other side of the Atlantic, a simple yet powerful message caught on and catapulted its messenger into the White House: "Let's make America great again". A positive message for the American nation, but one that entails hostility towards everyone else as the underlying notion of "greatness" refers to the benefit of the US against all others. A classic demonstration of an 'Us vs. Them' mentality amplified by introversion, ignorance, lack of insight and short-sightedness.
Progressive action
"Make Europe Great Again" is our response to the manifold challenges and threats Europe faces. In sharp contrast, however, our message is progressive in both meaning and action; it blends commitment with progress and is shaped by principles and values. We envision Europe making a progressive leap in line with its previous achievements: Greco-Roman civilization, the French Revolution and the Enlightenment, the social state, respect for human rights and a high quality of life. This is a truly European dream, collective in its conception and with none of the individualism that the American dream implies.
Reinvigorating our European vision presupposes a commitment and steps towards the following:
1. Policies ensuring the security and safety of citizens (from cyber-war to terrorist threats) and collaboration without divides among Member States.
2. An Economic Union, a genuine banking union, an earmarked common budget and the alleviation of internal inequalities between the centre and the periphery. The central driving force behind the deepening of integration is the enhancement of the EU's competitiveness with policies that promote growth for a sustainable, prosperous future.
3. Bold steps towards the deepening of democracy and the strengthening of European identity accompanied by concrete action demonstrating to European citizens that beyond their differences and geographical boundaries there lies a common interest.
4. A spectrum of effective, proven policies for young people and children to counter the effects of Europe's ageing population and its harsh demographic realities, with positive discrimination if so needed.
5. Commit to the goal of making Europe a beacon of innovation and technology through the abolishment of any kind of barrier or national border between the continent's universities and research institutions.
6. In these times in which geopolitics are of the utmost importance, Europe should rise to be an influential global actor empowered by hard, soft and smart power to ensure world peace and stability.
Through numbers 2 and 6, Europe will be able to assist regional economies in Africa and the Middle East to prosper in peace. This is the only way to abate the waves of millions of refugees and migrants arriving on European shores in the coming years.
No nation can stand alone
The progressive school of thought also has a responsibility to ensure that an understanding that no nation can stand alone in these globalised times enters into the mainstream consciousness. Even the largest European nations together only represent 1% of the world's population. Only united will Europeans make their voices heard, ensuring their words are taken into account and their interests protected in the ever-changing global scene.
Our power comes from the fundamental values and principles already in the collective psyche of European citizens. So, we can indeed go back to the basics.  Re-awakening them, however, demands different and additional strategies and tactics.
First and foremost, we must acknowledge the root causes underlying the problems citizens face. The easy answer would be austerity, but it is not enough: citizens feel a lack of control, ignored, left behind, anxious, powerless in the face of their own destiny and, reminiscent of Jacque Delors, a "widening distance between the governed and their governments".
The progressive way forward is to be simple and sincere. It is our duty to make the European project and its vision clear to citizens, so they can grasp it, comprehend it and accept it as part of their future. This is an especially hard task because the message needs to be put across to all segments of the population. We ought to show and convince Member States' citizens that a strong state cannot exist without a strong EU, that a sustainable recovery and the prosperity and fulfilment of national visions can only be secured through the achievement of the European project's full potential.
How can this be achieved? Perhaps by following what science tells us: to convey messages effectively. The key for people to listen, attach and identify is to offer emotional resonance and symbolism. Our armoury for appealing to European citizens should accommodate these two powerful tools.
It is in our hands to harness the power, once again, of Jean Monnet's wise words: people "act in a state of necessity and usually only recognise necessity in a situation of crisis."
So "Carpe Diem" European progressives! Let us make Europe great again! Let us make it according to the European way.  Let us "make Europe great again" for everyone's sake, not just our own.
Photo © Brad McPherson / Shutterstock, Inc.