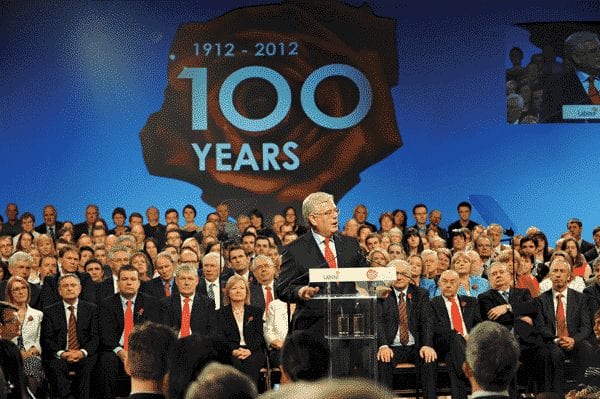 Labour gets a 'Shellacking' as Sinn Féin rises
Ireland alone in the EU will not return MEPs to the S&D grouping. However, contrary to the rise of the European right, Irish voters went to the left.
 The Labour Party leader has resigned, crystalizing Labour's woes since entering coalition with conservative Fine Gael. A new Labour leader may well exit the coalition before the scheduled elections on the 100th anniversary of the 1916 Rising.
Labour's Deputy Leader described the elections as a 'shellacking', echoing President Obama in 2010 after the Democrats' severe defeat. The presumably intended implication is that Labour can bounce back, as Obama did to a second term. But unlike the Democrats, Labour has fallen from second place (19.5% of first preference votes in 2011) to polling sixth (7.4%) in its Dublin stronghold, and 5.3% overall – a quarter of the vote received by each of the three larger parties: Fine Gael and Fianna Fáil both on 22.3% and Sinn Féin on 19.5%. Smaller parties and independents secured 30.6% of votes and won three seats. The local elections boosted voter turnout to 52.4%.
Ireland, alone in Europe, will not return any members to the S&D grouping. Ireland's 11 EP seats went to: Fine Gael (EPP) 4; Sinn Féin (GUE/NGL) 3; Fianna Fáil (ALDE) 1; and independents 3 (one previously NI, one ALDE and one new Eurosceptic). Sinn Féin's Martina Anderson MEP was also re-elected in Northern Ireland.
The 15.3% combined left-wing Socialist Party and People Before Profit vote in Dublin was twice Labour's 7.4%. However, the real challenge to Labour is the wider appeal of Sinn Féin's left-wing nationalism.
In his resignation speech, Eamon Gilmore explained his decision to lead Labour into a right-left coalition: "I asked the party to take on the responsibility of Government during the worst economic crisis in the history of the State. […] to put the country first. To address the crisis, to get out of the bailout, to reverse the loss of employment, to get the economy to recover, and to do so in as fair and just a manner as humanly possible. […] But it was a course which carried a high political risk, and Labour has paid the price for that."
Some argue coalition was not in the national interest, given the alternative of providing strong opposition to a minority conservative government. Whatever might have been, Irish voters have withdrawn their recent support for Ireland's social democrats. One interpretation is that social democracy is already a compromise between socialism and liberal economics. When that compromise is further compromised, nationally in a coalition government or with a right-wing EU-IMF 'troïka', social democrats become "remote and incomprehensible" to voters, to paraphrase French President François Hollande's remarks about the European Union itself.