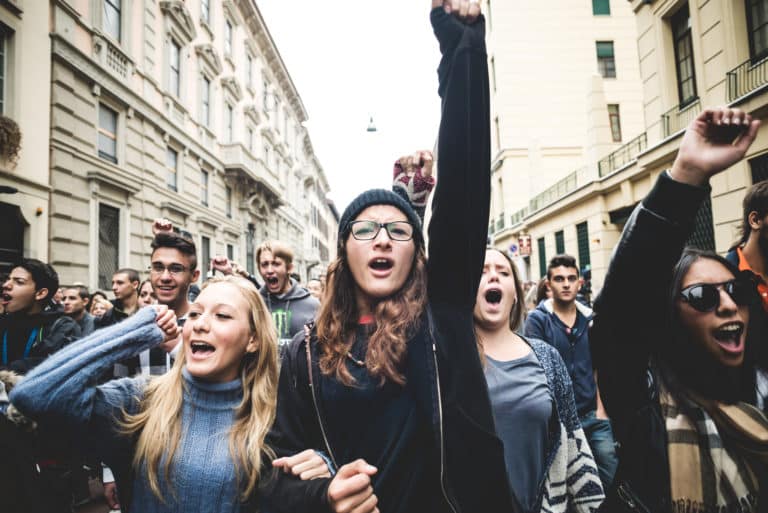 'Millennials and women are the future of social democracy'
While social democratic parties are being weakened by a new populist mobilisation in Europe, André Krouwel, founder of the the Dutch voting advice website 'Kieskompas' and political scientist at the Free University of Amsterdam, urges Social Democrats to target women and Millennials, two groups sensitive to sever social injustice. Interview by Alain Bloëdt, Editor-in-Chief of The Progressive Post.
Progressive Post: According to your projections, will populist parties expand again by occupying the space neglected by progressive parties, or are there other reasons?
André Krouwel: Indeed, a substantial section of traditional centre-left voters, the lower classes, lower-middle classes, are not by definition progressive; in fact there's quite a lot of academic evidence that indicates that they are relatively socially conservative and authoritarian.
PP: That's not what we used to think about the voters of centre-left parties!
AK: Maybe, but we always forget that you have to teach people what progressive policies are, what left-wing economic policies are, how to be tolerant… it's not an automatic, innate reaction for people. In fact, it's more natural to be nationalist, exclusive and conservative! And so, since socialism is learned, you need to have a very good story and a very clear message saying why progressive left-wing policies are necessary.
PP: If progressives continue to lose traditional voters, where have their new voters come from? Are they from cities, are they young voters?
AK: There's very little new ground to be gained for many social democratic parties because the Social Democrats are very unpopular in many countries among the young, but in some countries you see a revival. What we seem to be seeing across Europe is that a new generation of young people are actually attracted to the left.
PP: Which specific cases are you referring to?
AK: In the last general election in the UK, we saw that the old class basis of voting had almost completely disappeared, which means that the Labour Party is no longer merely the party of the lower and middle classes. With the upper classes and religious voters favouring the Conservatives, you now see that almost 60% of young people in the two lowest age brackets voted Labour. Over 60% of older voters voted Conservative.
PP: Does this create a gap between generations?
AK: Absolutely. In the UK, there's a grow- ing generational gap between older, Conservative voters who want to maintain the right, and new, young voters who feel completely left out because they're cut out of the pension system, and they have worse contracts. They have hardly any access to the labour market resources, pensions; housing is a huge problem, with hous- ing in urban areas becoming increasingly unaffordable. There's a new generation of people who are interested in social justice and would love change in these areas, but don't really understand left-wing politics. This was visible during Bernie Sanders' campaign for the Democratic nomination in the US. He was able to appeal to young voters and very well-educated voters, but if you talked to them, they didn't actually understand left-wing politics anymore.
PP: Would you say that Millennials are the future of social democracy in Europe?
AK: And women, too. These are two groups that see that there is severe injustice in our societies and they're not willing to just sit back and go along with right-wing conservative and populist forces.
PP: Why women?
AK: Women are more aware than men – because of the double burden they have at home and everywhere in society – that you need social investments, social support systems, government intervention in childcare or good labour laws, so that you can work part-time for a fair wage without being totally exploited. Women understand that the parties who gave them universal suffrage are also the ones who protect them. Men are often alpha males who think they can do it themselves.
PP: How could social democratic parties capitalise on this?
AK: There's a clear opportunity here to explain in a new and modern way why social justice is necessary and how it can be obtained. The problem, of course, is that the left doesn't always have the answer. The centre-left particularly, which is often forced to govern with the right.. And so they're being watered down in Germany, in the Netherlands, in Belgium, even to some extent in Scandinavia where they do govern alone, but the right is becoming so strong that they have to adopt some of their policies. They're becoming weakened and can't formulate a clear alternative. Left wing politics is actually very popular.
PP: How could they inverse the situation?
AK: If they seize on ideas such as ending austerity like the Portuguese government did, or like Jeremy Corbyn wants to do in the UK, they will find that those ideas are increasingly popular. Emphasising the need for investment in social housing, healthcare, edu- cation, even free education for all, is a winning strategy, particularly with younger generations.And there's another good reason to do this: increasingly we will earn money not by making things but by knowing things. So there's a new, clear economic argument in favour of doing this.
PP: Should the strategy be to go into opposition to build a new narrative?
AK: No, the centre-left should be in government. They're not made for opposition. If you're in opposition you can hold the moral high ground and become an economic populist, much like the radical left often is. We already have that version of socialism. It's an important version and it should be there because it's our conscience but it's not our practice. Social democracy was invented and developed because of its ability to actually implement transformative politics and to actually work on the social economy.
PP: New populist parties are currently talking about social investments, social protection. Does it make the situation much complicated for Social Democrats?
AK: If the right likes social-democratic ideas and implements them, that's
perfect. I always say that Polish people don't hate the PiS (Law & Justice) because they support families and give them €400 or €500 to help their children. What you don't agree with is that they are nationalists, racist, conservative, religious, xenophobic, Russia-phobic, misogynist, etc.
PP: Are women and Millennials two target audiences that are easy to mobilise for the European elections, considering their usual high turnout?
AK: It's difficult, but at the same time it represents a huge opportunity because in most countries the turnout is 30 to 40% or less, so every extra voter counts two and a half times. What you need to do is to home in on your base and mobilise people who are already inclined to vote for you.
PP: Which target audience do you think has the most potential for Social Democrats?
AK: Younger generations are, due to Brexit, and due to Trump, more aware of how important international collaboration is. International institutions safeguard democracy, the welfare state, the rule of law and international justice. They're aware that problems such as immigration or environmental pollution can not be solved by one state alone.
PP: If we go back to the Brexit referendum in the UK, it looks like Millennials are not enough to win an election…
AK: The story of the brexiteers is a crazy story because it's only an economic trade story. It's not about social justice, it's not about helping the environment. It's about how we as Britain can become richer, which is a right-wing story. And that is why Jeremy Corbyn is staying away from that debate because he can't win the debate on Brexit, because it's basically a story about just getting richer and you don't want to say 'no' to people trying to get richer.
PP: You haven't mentioned the issue of migration, which concerns many centre-left voters?
AK: For people who are inclined to vote for the centre-left, they think social justice – I mean making sure that people are taken care of when they need it, making sure that we have enough money for the younger generation, that we take care of our planet, that we reduce socio-economic inequality – is far more important than immigration. Immigration is part of that inequality; immigration is caused by global inequalities. And so immigration is a result of global injustice. So for many on the left, it is more important that you talk about addressing this inequality and creating more social justice, rather than focusing on the effects of what went wrong.
PP: But would you agree that immigration itself is a huge issue for the left?
AK: For sure! But immigration and refugees are very different and complex stories that you cannot solve in an election. Furthermore, creating more social justice will benefit everyone and everything. The message progressives should deliver is that you take care of each other. This the core of social democracy!