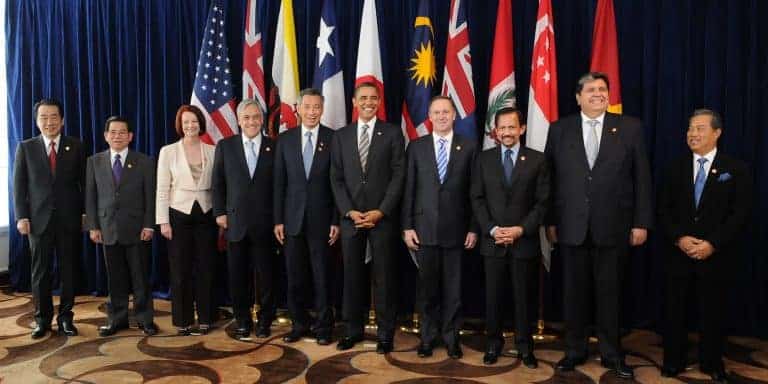 New trade agreements: A threat to democracy
The proposed new trade agreements, the TPP for the Pacific region and the proposed T-TIP for the US and the EU, have little to do with trade and a lot to do with dismantling the capacity of governments to regulate markets in a broad public interest. In this, they are extending a path already well-trodden by the World Trade Organization. Though T-TIP is a government-to-governnent exercise, the agendas have seen set primarily by private industry and finance. The negotiating process is closed and non-transparent, with the agendas set mainly by corporations. There is bias in who is deemed an expert advisor to the official negotiators, with an insider role being given to corporate elites. There are more than 600 official U.S. corporate trade advisors with security clearance to see draft agreement texts. NGOs, trade unions and environmentalists are largely excluded.
When the WTO was established in 1994, few were aware of the expansive obligations contained in the 900 pages of non-tariff rules. Since then, many WTO requirements and outcomes have surprised governments, the press and the public. Of the 186 completed disputes, a government policy was ruled to violate WTO rules in 92 percent of cases. Of these, 53 involved public interest policies from food safety to medicine patent policies, and environmental standards to development policy. The WTO ruled against 98 percent of these policies.
Building on the WTO, a Transatlantic Free Trade Agreement (TAFTA) has been a longstanding project of the Transatlantic Business Council. The TBC provides a forum for the largest U.S. and EU corporations to coordinate a joint attack on the best consumer, environmental, climate, and other public interest policies on both sides of the Atlantic. Among the goals for T-TIP-TAFTA are rollbacks of EU consumer data privacy protections, limits on Internet freedom and new pharmaceutical firm rights to contest national healthcare drug reimbursement list approvals and prices. The stated goal for T-TIP-TAFTA is to eliminate what they call "trade irritants" that limit their ability to move a product between the U.S. and EU or to operate as service providers, investors or manufacturers in both zones under the same rules without government interference. These supposed trade irritants are in fact the fundamental food safety, environmental, health and other policies comprising the social compact on which we all rely. They also call for T-TIP to impose a ceiling on such safeguards by replacing domestic U.S. and EU policies with trans-Atlantic standards that are better for business.
An attack on the public interest
Corporations would be empowered to directly attack domestic health, financial, environmental and other public interest policies that they view as undermining their new foreign investor rights by dragging the U.S. and EU governments before extrajudicial tribunals. These tribunals organised under World Bank and UN rules would be authorized to order unlimited taxpayer compensation for domestic policies or government actions seen as undermining corporations' "expected future profits." The tribunals are comprised of three private sector attorneys, unaccountable to any electorate, many of whom rotate between serving as "judges" and bringing cases as private attorneys on behalf of corporations against governments. In the normal democratic process, this would be rejected as a flagrant conflict of interest and an assault on the independence of the judiciary.
So what lessons can be learned from 20 years of WTO and bilateral deals? How can consciousness be raised about the true goals and consequences of T-TIP and similar agreements? There is also a more fundamental question to be asked – about whether trade agreements could or should be a force for raising standards in social, labour and environmental matters, among others. We propose a joint project of European and U.S. progressive leaders to discuss how awareness might be raised about the consequences of TTIP, how such trade agreements might be used to raise rather than lower social standards, and how coordination among European and American critics could be improved.