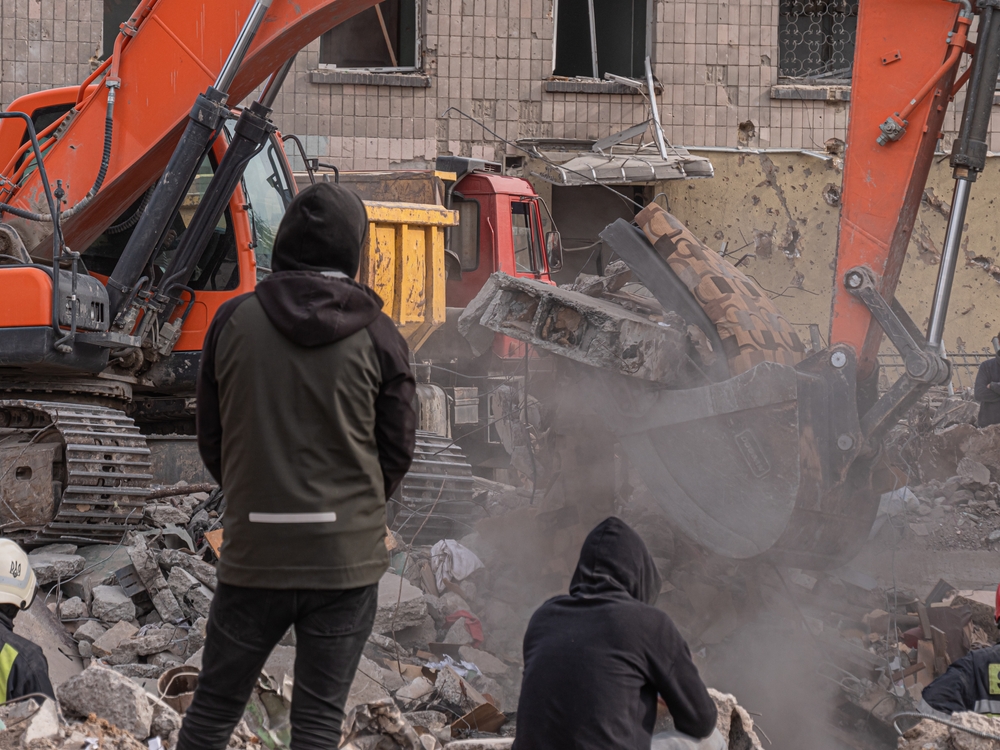 One year of war in Ukraine: solidarity starts locally
'Unbroken'. This is the name mayor Andryi Sadovyi has chosen to give to the rehabilitation centre he intends to build in his city, Lviv, for all Ukrainians arriving there injured by the war. "Many of them have lost everything. Home. Family. Childhood. And yet remain… unbroken". On top of the admirable resistance it shows, this example also demonstrates the enormous role mayors, local and regional elected representatives have played in Ukraine to help their communities survive since the start of Putin's brutal invasion.
Many lessons can and will be drawn from this year that saw a country on the European continent under attack. One lesson, however, has become clear through the response of cities and regions across Europe, and it is one that will continue to guide their engagement in the future: solidarity starts locally.
I am honoured to represent all cities and regions across the European Union as President of the European Committee of the Regions. Our commitment and support for Ukraine have been the strongest and we keep advocating for it to be also considered for the reconstruction.
It all began the day of the invasion, when town halls and monuments all over Europe were lit up in blue and yellow to stand with Ukraine. These symbolic actions were quickly followed by spontaneous and direct humanitarian aid offers with convoys leaving European regions to reach the border with Ukraine, as for example, the French region of Occitanie, which sent one of the many convoys with first aid, food and beds. There were also very fast initiatives to welcome people, like the Polish city of Świdnica, which immediately mobilised to provide safe conditions for those escaping the war. Squares across the European Union saw thousands of people mobilising to demand an end to the war, while local governments like the city of Vienna decided to provide free public transport, but also medical and psychological support, to Ukrainian displaced people.
That solidarity was not born on 24 February 2022. It existed before the full-scale invasion with many cities already working together in strong twinning partnerships, but also by the European Committee of the Regions which has been coordinating the sharing of experience and good practice for decentralisation, division of powers and devolution since 2014. And a year later, this solidarity is stronger than ever and will remain fundamental to helping Ukraine overcome two major challenges: reconstruction and joining the European Union.
Since day one of the invasion, the Committee of the Regions, has unconditionally supported Ukraine's unity, territorial integrity and sovereignty. In June last year, with the participation of the Association of Ukrainian Cities and other partners, we launched the European Alliance of Regions and Cities for the Reconstruction of Ukraine, a movement that continues to expand bringing together dozens of cities, regions and partners. The Alliance's call is clear: to support Ukrainian cities and regions in their reconstruction efforts, both politically and concretely, combining this process with a strengthening of local democracy. We have seen during the war the key role played by cities and regions in Ukraine. Their role will be essential for the reconstruction too. The needs for the reconstruction amount to € 327 billion, according to an estimate made in November by the Ukrainian Ministry for Communities and Territorial Development. Cities and regions are not waiting on the side: Brno in the Czech Republic donated trams and buses to Kharkiv, while Cascais (Portugal) is working to rebuild kindergartens in Irpin and Bucha, Gdansk (Poland) came to help Borodyanka with water supply facilities and Prague (Czech Republic) sent power generators to use in local schools.
We also supported the request of the Association of Ukrainian Cities to organise summer camps for children from Ukraine in EU countries to ensure physical and psychological support. More than one thousand children were hosted in regions and cities in Latvia, Italy, France, Poland, Greece, Portugal, and more. We plan to work with UNICEF to ensure the best care for Ukrainian children welcomed in our communities.
This anniversary must be first and foremost an occasion to remember all the victims of this war, but it must also be about confirming our commitment to support Ukraine. European cities and regions will continue to do their part so that from today's suffering and rubble, together we build the next page of the European Union's future.
Photo credits: Shuttterstock.com/DimaSid