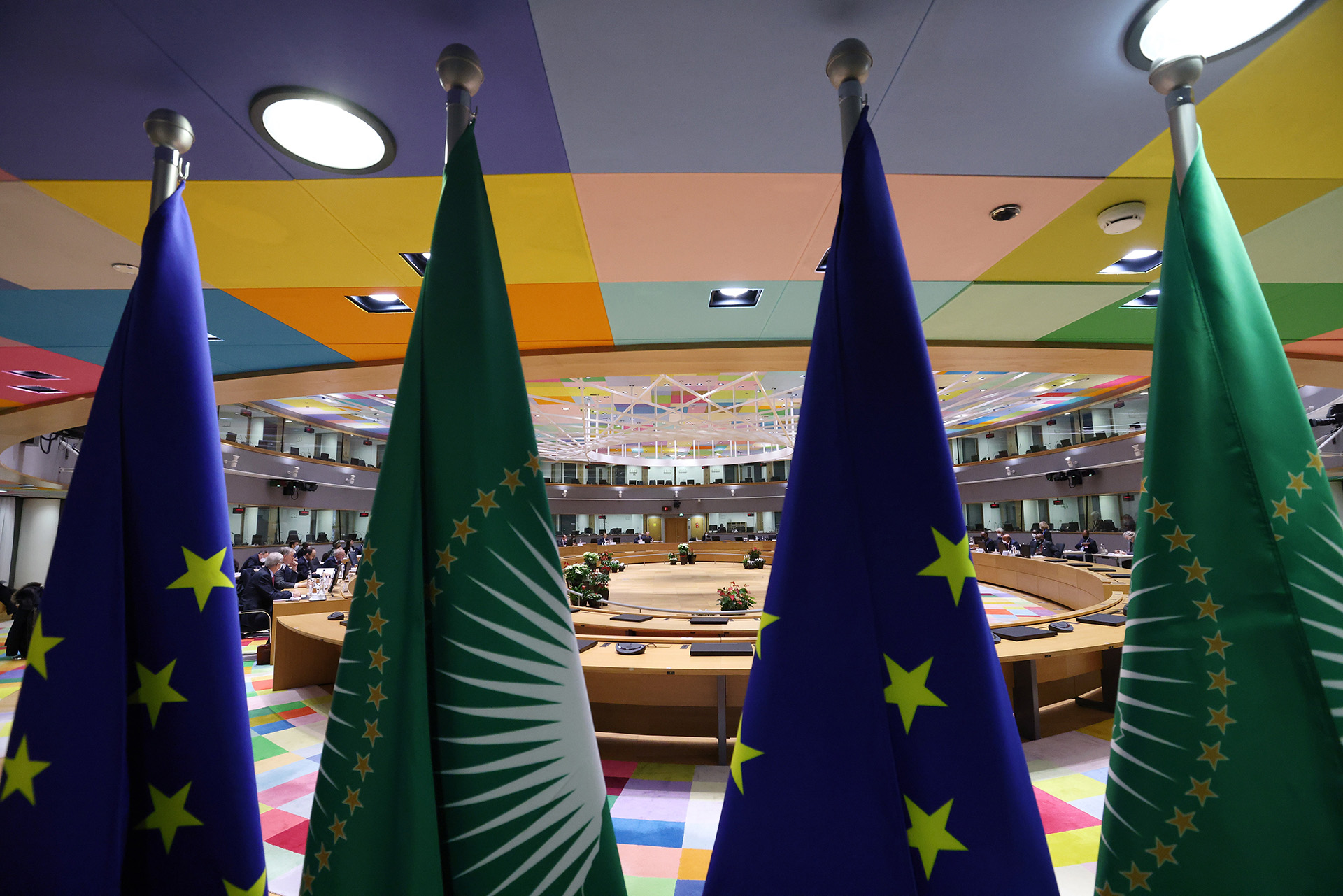 Partnership, not paternalism, is what Africa and Europe need
The relationship between Africa and Europe is one that cannot be avoided. Joined by geography, history, politics and economy, the only way to ensure a sustainable relationship is by working as partners in identifying areas of engagement for mutual benefit. Agreeing on improved ways of working together will be the real win.
The fortunes (and misfortunes) of Africa and Europe are closely interlinked. So close are these connections that a sustainable partnership between the two blocs is not only critical, but inevitable. 22 years ago, African states and the European Union (EU) agreed to develop a mutually beneficial joint strategy. On 17 and 18 February, leaders from African Union (AU) and the EU will meet for the sixth time. At the summit, they aim to discuss a partnership to strengthen economic cooperation, promote sustainable development, and advance peace, security, democracy, prosperity, solidarity and human dignity. The summit, delayed by over a year from October 2020 due to the Covid-19 pandemic, is not the panacea of relations between the two continents. Indeed, on a practical day-to-day basis, engagement between Africa (whether as a continental grouping or at regional and individual country level) and Europe (likewise as the EU or bilaterally, at the national level) is regular.
As with any partnership, though, carving common ground and understanding is central to maintaining it well. There are issues on which Africa and Europe agree, there are issues on which they don't, and there are those on which perspectives may differ, yet goals are the same. It is difficult to capture all the nuances of this relationship. However, there are four broad areas on which engagement is as necessary today as it was in 2000, when leaders from the two continents met for the first time in Cairo. These can be broadly framed as peace, security and governance; energy and the green transition; trade and economic development; and migration and mobility. All these are connected with sustainable development goals.
On peace, security and governance, recognition by both sides that instability in either continent gravely impacts the other is key. This has never really been a cause of disagreement for the AU and the EU. What has been causing contention, though, in the past, is how each understands the crises across the Mediterranean, and on how best to balance responsibilities in addressing them. Africa's resolve on non-interference (while advancing non-indifference and clearer intervention pathways) does not always match Europe's interventionist approach. With fallouts in the Sahel, the Lake Chad Basin and the Horn, one hopes that consultative collaboration will take centre stage at the summit. This is about the partnership itself more than about the required action. It is a recognition that whatever decisions on peace, security and governance are reached, these should be made mutually and not prescribed by one or the other. If agreed, this would pave way for a better relationship between Africa and Europe.
One easy win, here, would be for the AU to negotiate an oversight role in the new European Peace Facility (EPF) that will help finance military peace support operations in, among other regions, Africa. This would ensure that the AU retains ownership of conflict prevention, mediation and management in Africa. This ownership is central and would apply equally to other areas of collaboration as well.
For example, on energy and the green transition, while both the AU and the EU each have their own plans for the green transformation, their approaches and perspectives differ. For starters, the EU (made up of developed nations) and Africa (mostly developing nations) still don't agree on the continued use of fossil fuels for industrialisation and development. The EU is often accused of double standards as it pushes green transformation while fossil fuels make up the biggest share of Africa's exports to Europe. Finding common ground on energy and the green transition that still understands Africa's development needs would be a win. It is more likely to be part of the broader discussions on investments in Africa.
Further, getting a much-needed buy-in from Europe on the implementation of the Agreement on the African Continental Free Trade Area (AfCFTA), will go a long way in getting this long-awaited initiative going. Europe is a major trading partner for Africa and supporting intra-African trade would be a game-changer. This would build on the likes of the Boosting Intra-Africa Trade initiative (BIAT). In the long-term it would stand to benefit Europe just as much as it would Africa. It goes without saying, but both continents benefit if both are developed, prosperous and stable. If a similar approach could be reached on the related issue of migration and mobility, an oft-contentious point between Africa and Europe due to the divergent points of departure and approaches, that would be a big win.
Already, Africa views migration as being about demographics and development. Several of the AU's policy documents (including Agenda 2063) and positions underline the connection between migration, trade, development and regional integration. Little wonder then that in 2018, the Agreement establishing AfCFTA and the Protocol on the Free Movement of Persons, Right to Residence and Right to Establishment were adopted simultaneously after parallel negotiations.
While at this year's Africa-EU summit, discussions on migration may be eclipsed by those on conflict, climate and development, reaching consensus on some specific aspects related to migration and mobility will be key as they are all interrelated. This would include, for example, agreement on legal labour migration pathways, innovative ways of leveraging remittances, enhancing the role of the diaspora, international protection of asylum-seekers and refugees, and linking efforts to reduce forced displacement to conflict management and peacebuilding efforts. Underpinning these would be a mutual understanding that partnership, over paternalism, is the best way forward.
Of course, expectations are high on what will come out of the summit. For me, the most important outcome is the nature of the partnership, which has often been seen as unequal. To level the scales, constructive collaboration and consultation are key determining factors. The nitty gritty of implementation can be discussed later. For now, steering the relationship towards a mutually beneficial partnership that transcends the specific areas of engagement is imperative. This will require honest, more nuanced, and frank dialogue that doesn't shy away from the politics that often get in the way.