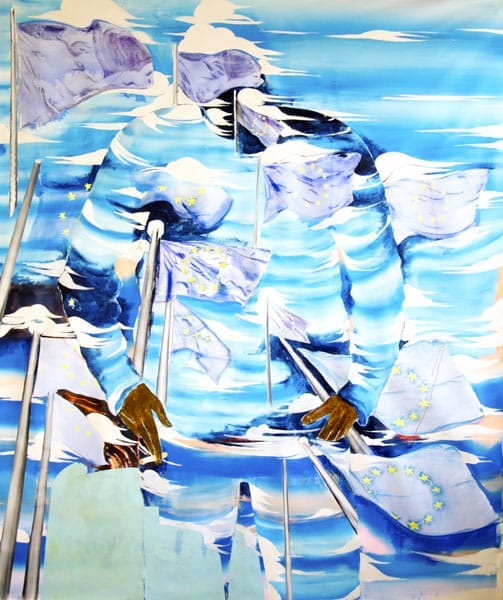 Si vis pacem, para bellum?
In the context of an ever more dangerous geopolitical environment, a stronger and more binding European integration centred around the External Security and Defence Policy could improve Member States' security. For that to happen, Member States must introduce tangible, qualitative steps to increase common decision-making and solidarity in their Common Security and Defence Policy.
In the past five years, new challenges have emerged in the EU's neighbourhood. In the East, Russia has become more aggressive and more assertive; to the south and south-east, there are threats from failing states, civil wars, insurgencies and Islamic extremists, especially in Africa and the Near East. Whilst the conflicts themselves are unlikely to reach Europe, their consequences do, and give reason to consider a reinforcement of the European Union's external security and defence policy.
Are these challenges sufficiently important to push EU member states to increase security and defence integration?
Unilateral confrontation vs. cooperation 
Up until autumn 2016, in confronting these challenges Member States chose either unilateral responses, alone or with an ally, or cooperation. Even if they opted for cooperation they did not always choose the Common Security and Defence Policy (CSDP). The Treaty of Lisbon in combination with the NATO alliance compels EU countries to opt for a NATO-coordinated response when faced with armed aggression against their own or their allies' territory. This is excepting the few neutral member states: Sweden, Finland, Austria, Ireland. It is only for other types of armed challenge that the European CSDP was chosen, and even then, some member states would rather join United Nations' crisis management missions.
For example, in response to the Russian challenge to EU collective security, Member States chose NATO. Regarding challenges in Africa or the Near East, even with the perspective of high-intensity conflict, France and sometimes the UK had and have a strong preference for unilateral action, perhaps together with the US. Reacting to the largest-scale challenges in the south, EU member states chose the United Nations cooperation format.
Only for the least dangerous crisis-management operations have they – or rather the willing ones among them – chosen the Common Foreign and Security Policy / Common Security and Defence Policy [CFSP/CSDP] cooperation format: missions with low-level expected violence, limited dimensions and increasingly with civilian objectives and instruments. And even then member states contributed small forces compared to what they contribute to NATO, the UN, or their unilateral operations.
Europeanising security and defence would require EU Member States to opt much more systematically for CFSP/CSDP and to reinforce cooperation structures. This would rechannel the resources formerly going elsewhere towards European cooperation, allowing them to become EU common contributions to NATO or UN missions.
But as of summer 2016, the game has still not changed: faced with new challenges, countries continue to opt for any one of the responses mentioned above. And yet the CSDP succeeds in setting up the missions that the EU Member States actually want.
Differences between Member States 
This absence of change can be explained by the different preoccupations of EU countries: some retain a preference for unilateralism; some fear casualties and the slowness of democratic decision-making; others, particularly the southern and eastern Member States, have a different appreciation of external risk; and there is certainly a reflex to free-ride on US European engagement.
But at the same time, political elites' understanding of the situation has advanced during the past one-and-a-half years. In autumn 2016, with the crisis in the Near East deepening further and the one in the Ukraine dragging on, and with the potential for African migration increasingly moving into the eye-line of elites, there is a more common appreciation of overall security risks and of the urgency of CSDP reforms. Many of the most prominent national and EU leaders seem ready to advance in common security policy this autumn.
And with security policy in general increasingly at the forefront of EU citizens' minds and the swing of public opinion to more acceptance of EU cooperation in security and defence, leaders have an incentive to act. Elections in France and Germany are approaching. On the one hand leaders have the opportunity to be seen as problem-solvers on security matters. But on the other hand they can also compensate for frustrations in euro governance and Schengen integration with advances in the traditionally national competence that is defence.
How this will play out and how far governments will in the end be willing to move beyond the status quo remains as yet a matter of speculation.
Photo: © Antoine Carbonne