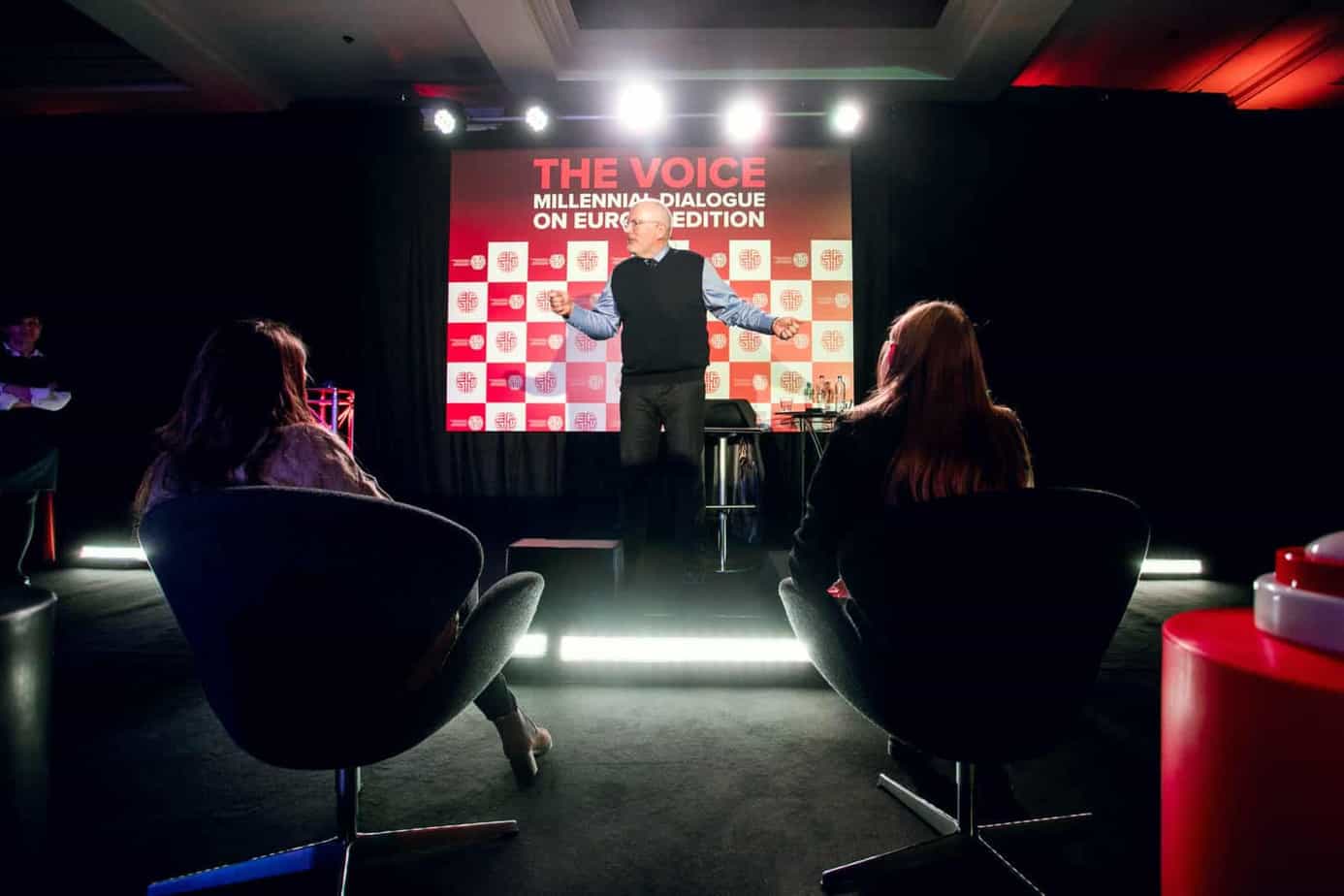 A sustainable world: we Social Democrats will leave nobody behind!
Many feel they don't have an equal part in society and are alone in paying the costs for the transition to a more sustainable economy, environment and social model. It is time for Social-Democrats to make social sustainability a reality, because that will get the largest possible group of people on board for environmental and economic sustainability. This must be a priority for the European elections – and beyond.
Our society has become one in which many people feel insecure, and where it is much too easy to incite hatred. We need to realise that freedom of speech is a considerable asset. But we must also realise that the origins of terror and violence are words that are then transformed into deeds. Therefore, we need to choose our words carefully. Because words do have an effect.
Across the entire continent of Europe and in our European Union I see how easy it is to incite division. I want to stress this, because if there's one thing that really threatens our society, it's politics that's based on excluding others. Saying, 'my opponent is no longer my opponent, but my enemy'. But when a political opponent becomes an enemy, comprise is seen as defeat.
As Social Democrats, we know that a society as diverse as ours can only make progress if we're prepared to make compromises. Finding solutions by taking the other's needs into consideration. This is not a sign of defeat, but rather of victory.
A 16-year-old pizza delivery boy is not an entrepreneur. And if he falls, he should be treated as a normal employee, entitled to protection.
Everywhere we're witnessing the rise of similar movements. Whether it's the governing parties in Poland, in Hungary, one of the ruling parties in Italy, possibly both, or some other movements, the opposition is always seen as 'the enemy', with whom they can't collaborate, and whom they need to exclude.
The nationalists are particularly good at destroying things. Just like an unhinged toddler destroys toys. What they're unable to do is to create something and to actually build something. Sooner or later, people will see this. And then, what will be their approach? Then, they say that it's not their fault: they blame Brussels, or Muslims, or Jews, or homosexuals. They always manage to find someone to blame.
But I am optimistic about the opportunities to convince people. We reject this form of politics, but we will never reject the people who think they can realise their goals through this form of politics. These people are still our people, even though they don't vote for us at present. I hope that we will be able to convince them with policies that will bring them back to us.
Unity to master the challenges
The essence of Social Democratic politics is bridging differences and fighting for the whole of society. Making sure no-one falls overboard and ensuring that, even on a European scale, we still consider everyone.
If we look at the challenges facing us like climate change; an American President who, for the first time in post-war history, genuinely appears to believe that a divided and weak Europe is better for the United States than a strong Europe; a Russian President with the same agenda; China, continuously trying to gain the upper hand in global affairs; the migration challenge, then, there is only one thing we can do as Europeans: we need to work together with other Europeans to come up with a positive response to all these challenges. This is the only way forward.
Equality between men and women is only possible when physical power is not used to oppress women. Perpetrators must be severely punished.)
The attraction of many of these nationalist parties in Europe is that people are disappointed with us. They are disappointed with a political system that has resulted in people feeling they don't have an equal part in society . And then the nationalist's proposition is: 'We will take you back to a glorious past.' What they don't always tell you explicitly is that it's a past in which the white male was the boss, the woman was in the kitchen, and the whole world danced to the tune of a small number of European empires. This world has little to offer from the perspective of our Social Democratic tradition.
A fair share for everyone
We are one of the oldest political movements in the Western world. A 150-year-old movement. But we should not forget the essence of Social Democracy: progress. To quote Jean Jaurès: "It is in flowing to the sea that a river remains true to its source." And this is the essence of Social Democracy. We need to shape the future, not live in the past!
But we will only be given the mandate to shape this future if everyone is able to see a fair share for themselves in it. This is also how I see sustainability and the climate issue. I do not believe that people reject the idea that the transformation is necessary. People are well aware that there is no other option. But in a lot of countries, people are rejecting change because they feel that the burden they have to carry is unfair. And as long as polluters and businesses are not being taxed as well, and citizens think that they are alone in paying for the transition, then they will reject it.
If you look at sustainability more broadly, as Social Democrats we need to put social sustainability at the top of the list. Because social sustainability will enable us to get the largest possible group of people on board when it comes to all the other sustainability issues.
And what do I mean by 'social sustainability'? I mean that – for once and for all in Europe – we will stipulate that a 16-year-old pizza delivery boy, with a rucksack on his back, is not an entrepreneur when he's simply delivering pizza to someone's home. And that, if he falls he should be treated as a normal employee and he's also entitled to protection. And I want better minimum wages in Europe.
Further progress on women's rights
As I said, the nationalists want to take us back to the past. And who are the greatest victims in this scenario? The first victims are women. Maybe they will be allowed to keep the vote, but that's all. They will lose many other rights. I hope that we will finally realise across Europe that the first and most important victims of this neo-conservative belief system will be women. We must keep making progress on women's rights, not turn back
And this is why we urgently need to get rid of the gender pay gap, which is 16%, and the pension gap which is 40%. This is unacceptable and unfair. And I still want us to go further on work-life balance. If there's one thing I've seen and heard from young fathers and young men, it is that they welcome the idea of being able to be more of a dad than was possible in the past. And that's good for men, good for women, and good for the children.
I also want an urgent action plan to combat the incredible levels of violence against women. Some countries in Europe use all kinds of false arguments to justify not ratifying the Istanbul Convention, which is intended to eradicate violence against women. This is unacceptable. Violence against women, be it sexual violence or just physical violence, is based on exercising power. It is a weapon based on power and this power must be broken.
Equality between men and women is only possible when physical power is not used to oppress women. Perpetrators must be severely punished.
Bet on the future, bet on millennials!
I'd like to say to every one of my age: you need to realise that these are the first elections in which people will be entitled to vote who were born in this millennium. And for those who were born in this millennium: you should realise that if you fail to take the opportunity to vote, then it will be people who were born in the last millennium who will in fact determine what will happen. You should realise what's at risk: your future!
And we, as a movement, with our tradition and background, must realise that what we are talking about now is the future for our children and our grandchildren, and that when it comes to sustainability, international security, social equality, justice, the rights of minorities, we're doing this because we want to leave behind a society that is better than the current one. And we're doing this together with those who will be the owners of this society.
This text is adapted from a speech delivered by Frans Timmermans at the Election Congress of Dutch Labour Party (PvdA) in 's-Hertogenbosch.