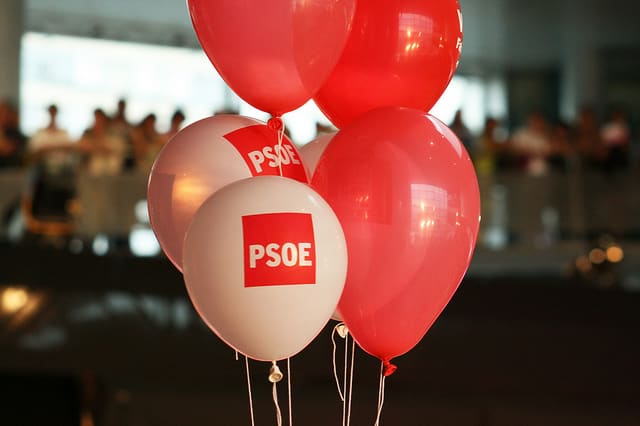 The Spanish left faces its greatest challenge
Although it is often said that social-democracy has been in crisis since birth, it is no surprise that in recent years it has experienced particularly hard times. Without mentioning the collapse of PASOK, it is years since the German SDP achieved more than 25% of the vote, the French Socialist party risks sinking from fourth to fifth place in the upcoming elections in April and, according to a study conducted by the Fabian Society, the Labour Party could win as Little as 20% of the vote, ten points less than in 2015.
Spain is also affected by this devaluation of the social-democratic brand within Europe, and PSOE has fallen from 46% of the vote in 2008- the last year in which it won an election- to 22% in the most recent polls in 2016. An aggravating factor in the Spanish case is the fact that we are witnessing the greatest political transformation since the democratic transition of the late seventies.
In our country, the collapse of the financial system in 2008 also caused the property bubble to burst, leading to a crisis which was not only economic, but also political, social, institutional and territorial. José Luis Rodríguez Zapatero's socialist government handled the crisis in a similar way to European liberal and conservative parties, with austerity policies and labour reforms, causing a fall in salaries which would later lead to great electoral decline and a reduction in party membership.
In parallel, we witnessed the emergence of movements such as the "indignados" 15M (remembered for occupying Puerta de Sol in Madrid for almost a month). They demanded a more participatory democracy, as well as greater transparency and other improvements to the democratic system.
January 2014 saw the launch of Podemos, a new party led by Pablo Iglesias, heir to the 15M movement, which rejected fixed ideological labels and defined itself as anti-establishment. Intruth, as well as social movements, the party emerged from the Izquierda Anticapitalista, or Anti-capitalist Left party and was considered by some to be left wing populism.
The appearance of new parties- the aforementioned Podemos and self-styled "liberal progressives" Ciudadanos- threatened the traditional PP-PSOE bipartisan system, but its real effect was putting an end to the unity of the left wing vote. Instead of provoking a reaction from the traditional parties and acting as a stimulus, the new political situation put them on the defensive, unable to read the reasons for their abandonment by the voters, not always in favour of another party.
PSOE, which lost the 2011 elections with what was, at the time, its worst result, failed to understand that the world is far too complex to simply apply the familiar social-democratic formula. Rather than analyse and reflect on the causes of its defeat, it embarked on a never-ending debate with Podemos over who was more left wing, who cared more about defending the symbols, policies, habits and customs of traditional working class mythology, rather than attempting to tackle the more immediate problems facing social-democracy today.
The result has been the slow motion collapse of PSOE electoral capital, faced with a population which demanded, and continues to demand, new, creative solutions to both new and old problems. The paradox is that, according to the large-scale survey carried out by the Centre for Sociological Research (CIS), prior to the June 2016 elections, more Spaniards defined themselves as socialists (14.5%), progressives (11%) and social-democrats (6.9%), than conservatives (12.8%) or liberals (11%). In simpler terms, 32.4% consider themselves to be left wing. However, this ideological self-identification is not reflected at the ballot box, leaving many left leaning voters orphaned, as they do not see themselves represented in any of the existing parties. Following the poor election results of 2011, the 20 December 2015 and 26 June 2016 elections have done nothing but aggravate the crisis of PSOE, who achieved their worst result in history.
PSOE destroyed an important social-democratic asset in its handling of the crisis. It neglected the principal function of the European social-democratic parties- to act pragmatically, implementing economic policies which reduce economic inequality, and, with an iron hand in a velvet glove, managing an economy focused on balanced growth and innovation. It suffered from a total lack of self-criticism of its political strategy, economic and social policy, and is considered by a large segment of society to be a "class traitor". Despite this, it has not yet carried out an honest analysis of the main reason for its electoral defeat in 2011 and the elections which followed (European, regional, local and general). Instead it uses its time fighting for hegemony over its dwindling electorate against Podemos (a party which went into coalition with Izquierda Unida- United Left, the heirs to the Communist Party- during the last election to improve its results in the repeat vote), which aspired to beat PSOE to become the main party of the left. The result of the last elections, practically identical to those held six months earlier (PSOE 22.6%, Unidos Podemos 21.1%), served as a punishment for both parties.
The current situation of the main left wing parties is, therefore, as follows. PSOE's results at the ballot box have been falling for nine years, its public support has declined by over 20 points and hundreds of positions of public office. The problems faced by this historic party are not limited to the lack of leadership- following the controversial resignation of Pedro Sánchez as secretary general, two years and three months after he was elected by party members- but rather the loss of talent and absence of ideas, inbreeding and a party model in which meritocracy is notable by its absence, and the great damage caused by the embarrassing and self-destructive public spectacle of its internal power struggles, both structurally and in terms of image. It is struggling to connect with the electorate and incapable of offering solutions to its traditional supporters and many others who do not see themselves reflected in any of the existing political parties, which spend more time arguing among themselves than tackling citizens' concerns. Their main support lies in rural Spain, while they are failing in the cities, particularly among the younger and more educated sectors of the electorate. Currently led by an interim caretaker, the conference to choose a new leadership and attempt to ideologically rearm will be held on June 17 to 18.
As for Podemos, a political project which has, throughout its short life, been bound together more by the various wills of various left wing minorities than the creation of a party with a vision and a unique, clear mission, it now finds itself plunged into the existential doubts inherent to a political grouping formed of three cooperating political approaches (the "palbistas", named after the secretary general, the "errejonistas", after his number two and political secretary, and Marxist anti-capitalists). On February 11 and 12, it will hold its second Citizen Assembly in order to tackle its desires and its contradictions between being and wishing to be, between fruitless struggle and political power as a means of transforming reality.
Against this confusing and volatile backdrop, the left, both with PSOE and Podemos, is once again afflicted by voter disillusionment and disorientation. There are several million citizens unable to find a party to vote for, and who ultimately abstain or end up undecided or angry. These are the orphans of the left. In order to regain the trust and hope of voters, PSOE must offer a modern, coherent, consistent and credible social-democratic agenda, and become more proactive and less defensive. If there is one defining factor in the historical moment which our societies are experiencing, it is profound transformation. Therefore, the left must fly the flag for change, be bolder in its proposals, and play a central role in debate, placing policies associated with the egalitarian and progressive values of social-democracy, such as healthcare and education, tackling the duality of the labour market, protection from unemployment, how to prepare the welfare state for the aging of the population and the implementation of realistic tax reforms, on the public agenda.
In a global context in which social-democracy is losing strength, the European Project is threatened by the emergence of nationalist and populist movements, and uncertainty in the world continues to grow, social-democracy must build a new narrative geared to our complex society, a new brand, capable of exciting and motivating the whole population, hungry for new ways of doing politics, for a feeling of being truly represented and a means of turning their anger into political change.
Social-democracy must adopt a reformist agenda which is bold, daring and brave in its approach, which uses clear, direct, honest, inclusive, modern language, capable of exciting people without relying on euphemisms or exclusionary rhetoric, and which addresses everyone, not only the left. Ultimately, social-democracy must find its place on the new world stage, adapting to new political codes and recent struggles, as well as social and economic changes, with its own line of reasoning, which rebuilds bridges with its original vision, offering realistic and creative solutions to the new problems we face today in order to re-establish PSOE as a vehicle for channelling the will of the people. In other words, it must be at the ideological vanguard and win over large swathes of the population, highly diverse in terms of age, socio-economic level and geographical location, and re-establish links with the more highly educated sectors of society, as befits a progressive party.
Therefore, the Spanish left is facing its greatest challenge. It is time to change tack in order to reconnect with the people and offer alternative public policies to change Spain. Given the lack of alternatives, failing to do so will allow the right to continue winning by default until the end of time.
Photo credits:  CC/Contando Estrelas