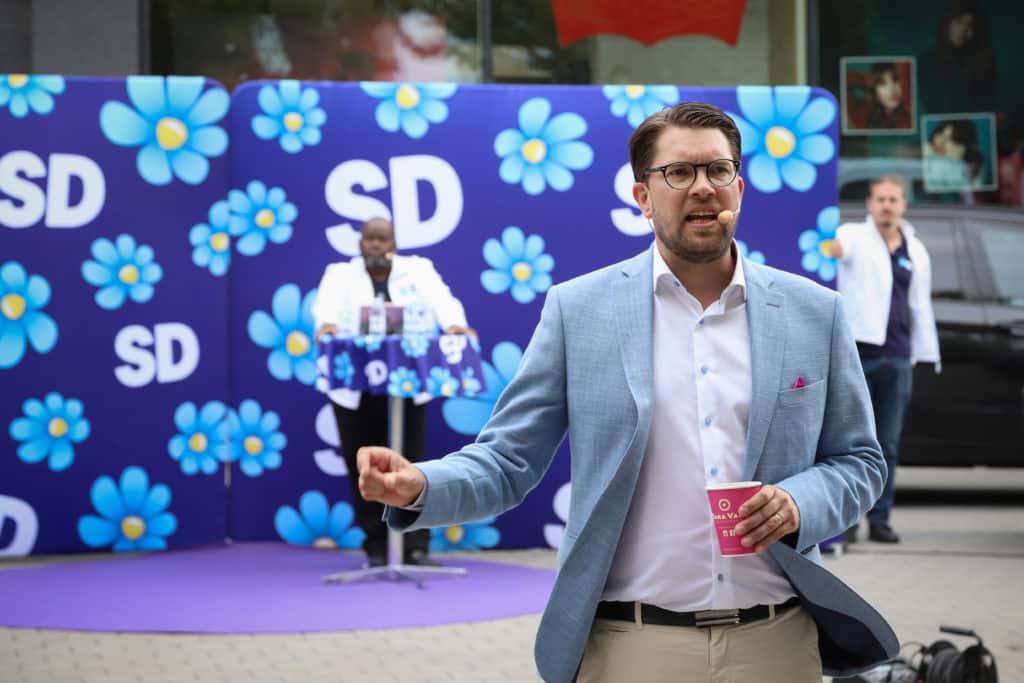 Success or failure? How can Sweden Democrats benefit from the election results?
How long can the other parties reject Sweden Democrats after the last Swedish election?
Sweden Democrats, SD, has always been an isolated party in Swedish politics, to a large extend due to the dark Neo-Nazi history. But SD got almost 18 per cent of the votes, a big step forward compared to last election (12,9 per cent).
SD have always been a nationalistic party focusing mainly on reducing the migration. But law and order and conservative values about family, sexual orientation and gender equality are other themes that has been lifted in political documents for a long time. Recently SD also wants to address the common welfare sector, both with improvements for those that are employed (mainly women) and those that are depending on well-functioning health care, SD talks a lot about caring for children and the elderly. Particularly the Social Democratic party have questioned the budgets delivered by SD since being unrealistic, they will not raise taxes and are exaggerating the figures for reducing migration. Most local communities will have a reduced budget with a budget delivered by SD.
70 per cent of those voted for SD were men, but the number of women voting for SD has grown slightly (not that much though from 2014 to 2018). More than 80 per cent of them voting for SD did it even in the election 2014, no other party has as loyal voters as SD. SD toke about the same number of voters from Social Democratic party and Moderaterna, and less from other parties. SD is stronger in southern Sweden and in rural areas. The most common voter is a man with working class background living in less populated areas or in Skåne, the most southern of the Swedish regions.
Cordon sanitaire: for how long?
All other political parties in Sweden have made clear they don't want to cooperate, and so far, they even resist communication with SD-representatives in the national parliament (some contacts are made though in local councils). I am sure this will change, sooner or later. But it's impossible to know how long it will take. It would certainly be a big change, but pure mathematics makes it very difficult to leave SD totally out of power.
The Social Democratic party is still the biggest party, and the red-green bloc is still slightly bigger,
The result of the last election has made the political situation in Sweden extremely complicated. The Social Democratic party is still the biggest party, and the red-green bloc is still slightly bigger, 144 mandates in the national parliament compared to 143 for the blue bloc and 62 for Sweden Democrats. It means that none of the blocs will get a majority unless they break up the traditional blocs, or save up a support for their budget with SD.
The Social Democrats have invited The Liberal party and the Center party (also a strongly liberal party with a background as an agrarian party), but they still strongly resist such a solution and sticks to the other parties in the blue bloc. Instead they invited representatives for Social Democratic party to a meeting to gather support from for a Right-Wing Government. Stefan Löfven, the Social Demoratic Leader answered that this is totally impossible since he is the leader of the biggest party. The positions are locked, but all parties need to consider new constellations. As soon as the new chairman of the parliament is elected he or she will invite the leaders of all the parties.
The positions are locked, but all parties need to consider new constellations.
I am sure that sooner or later the Liberal-Conservative party Moderaterna and the Christian Demcratic party will move closer to SD. But this will not be enough for a government in majority and it remains to be seen if The Liberal party and the Center Party would give their support despite earlier declarations made about SD. Only 30 per cent of those voted for Moderaterna are against such a solution (lower than in any other party), and local representatives, mainly from Southern Sweden have told that such a dialogue must be established.
Nevertheless, SD have declared they will not give passive support to any government, left or right, without getting some benefits, they want to shape politics, or ells rather stay out of such positions. They might reject both the red and the blue budget and then Sweden might possibly need a new election. This is not something that the other parties are in favor of. Particularly not since there are three parties that barely made it to the parliament, The Green Party, the Christians Democrats and the Liberal Party. A new election might lead to a loss of votes and that some of these parties lose their mandates to SD.
Some, including me, would have thought that SD should remain silent for a while and behaving well as long as there is still a slight hope that someone would reach out for a dialogue. Instead Mattias Karlsson, the second leader of the party, immediately wrote that SD must step up and prepare themselves for the forthcoming election to the EU-parliament. He was talking about that the destiny has chosen the representatives for the party to warriors in a fight for a new society and that it is a choice between "victory or death". He also talked wrongly about Sweden being occupied by other countries and a long history of public resistance as a role model for common elections. Karlssons got support from Jimmie Åkesson, saying that this way of talking was not at all controversial and in fact similar to what can be heard in other parties.