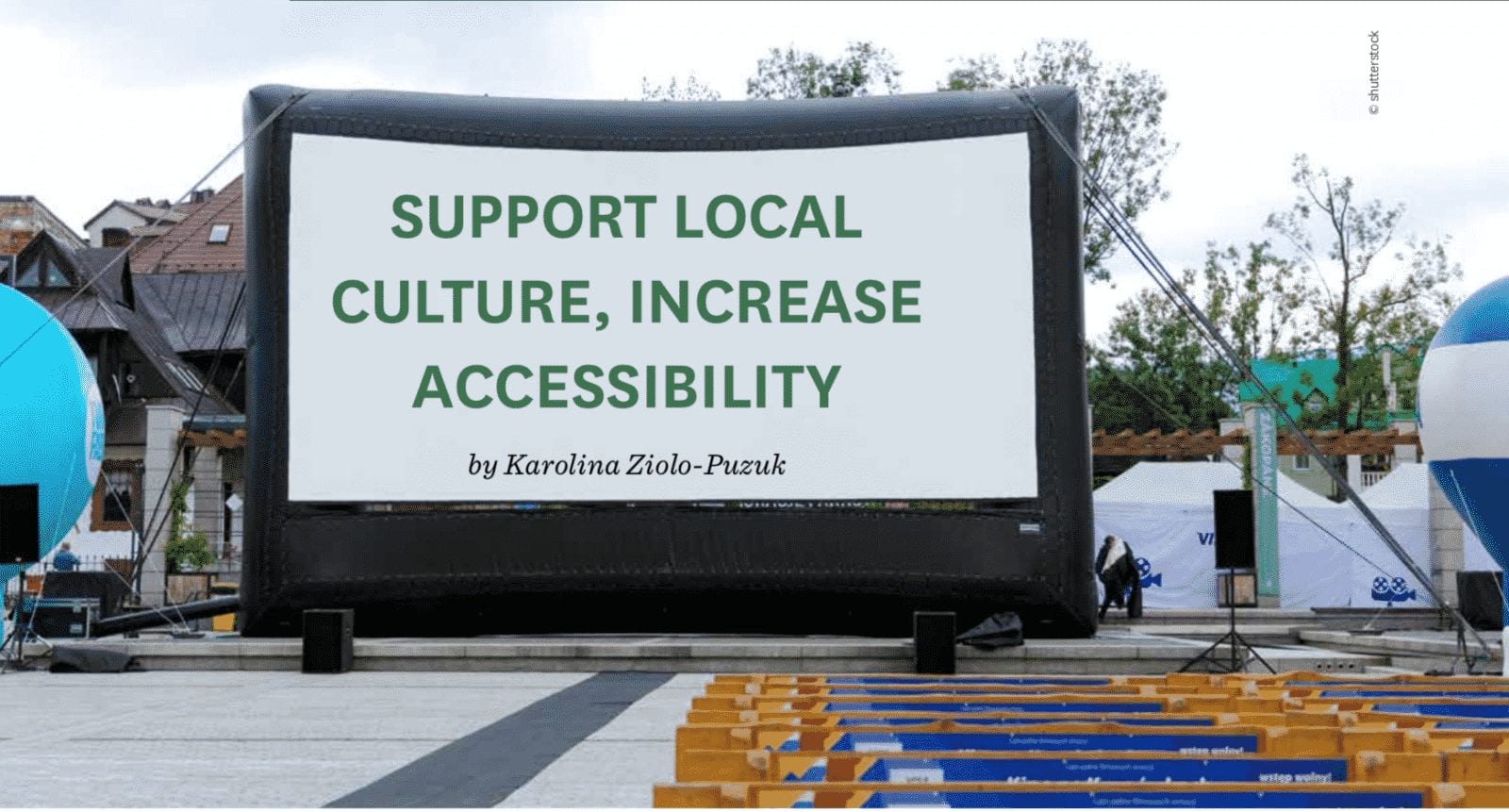 Support local culture, increase accessibility
Culture remains a sensitive mechanism that responds quickly when a political or social change occurs, even before it becomes apparent to the wider public. Therefore some radical governments may feel the need to control culture in order to suppress its natural tendency of being a social negative/positive change barometer. The role of the Centre-Left is to introduce regulations and initiatives that can prevent this from happening.
For most of the 20th century Polish culture struggled with censorship, implemented by foreign powers (before 1918), gradually more radical Polish governments (in the 1920s and 1930s) and finally from 1945 until 1990, when censorship was executed by a centralised office with regional branches. The influence of the censorship was far greater than one can expect: it created the notion of self-censorship, which kills all dissent and stops the possibility of a change.
One can argue that today in Poland censorship and self-censorship are coming back and again, access to the public mass media becomes limited if an author, actor or director expresses his/her dissatisfaction with the government. Moreover, the "dissident" plays, movies and books are not funded by the state agencies, and large companies (owned or co-owned by the state) refuse to provide financial support for such initiatives. It needs to be noted that in Polish history, including the post-war period, culture played a significant and exceptional role in politics by shaping the general public's opinion on various topics, influencing internal relations. Artists were becoming national heroes regarded as "the nation's conscience", and reading books and magazines published in the underground or smuggled from the West was part of being progressive intelligentsia. At the same time, the government treated official culture with respect (not only popular culture, but also original and niche artists), supporting initiatives on the local level, putting the idea of social advancement through culture and education into practice.
The phenomenon of the importance of culture can also be observed today, when, for example, the movie "The Clergy", depicting the sins of Polish priests had been seen by 2,5 million people in the first 10 days since its release, making it the biggest opening in the history of Polish cinema.
In order to become an agent of progressive social change, culture in Poland needs to receive stable financial support on the local level.
All the facts mentioned above need to be taken into account by the Centre-Left, and a future Centre-Left government, when creating cultural policy in Poland. This policy should confront all practices leading to censorship, even the most subtle ones suppressing diversity, creating imbalance and social exclusion, by strengthening not only a transparent decision-making process in cultural institutions but also by including the different artistic societies in those institutions. Therefore the way of appointing managers in the cultural institutions (such as theatres and museums) need to be revised and a stronger mandate should be given to the employees and the unions.
But culture starts at home. By this I mean that more attention should be paid to local cultural initiatives which support not only personal development but more importantly, can serve as a means of preventing social exclusion. Such well-designed initiatives, with help from local activists, support emancipation and integration. In every district, artists, especially at the beginning of their professional life, should be granted a stipend or/and a free-of-charge space to pursue their career. This simple step of making previously unused spaces available for local initiatives would stimulate creativity and inclusion. Local governments can also become patrons of cultural actions aimed at children and adolescents from disadvantaged backgrounds by funding NGOs involved in such activities. Ideally, this can become a program developed on the national level, however it needs to be designed in a way that guarantees diversity and an unbiased approach regardless of the change in the government. The progressive ideas of inclusion and diversity should be embedded in the structure of such a program.
Libraries, with substantial annual guaranteed funding, in every school and district open 24 hours, with some organisational help, can become vibrant centres of local activism. However idealistic as it sounds, libraries open 24/7 will symbolically balance off- licences that never close in every small town. Introducing such an idea by the progressive political movement would be a strong standpoint.
Finally, accessibility. Although this topic has been mentioned by many Polish politicians, no government up to this day in Poland has managed to fulfill promises in this important sphere. All programs on national TV should have subtitles or translation into Polish Sign Language and, when appropriate and possible, a visual description for the blind and visually impaired. This should at least apply to all news, programs for children, live coverage of important events, and TV shows produced by public television. Disability cannot prevent any Polish citizen from participating both in culture and politics.
In order to become an agent of progressive social change, culture in Poland needs to receive stable financial support on the local level, however the decision of who and what activity receives this support should both be transparent and guarantee diversity and promote the idea of a multicultural and multilingual society. The Centre-Left progressive cultural policy is of great significance today when, as some experts point out, Poland has been in a metaphorical sense divided into two parts with Poles watching TV channels presenting a vastly opposite interpretation of reality, participating in different cultural events commemorating historical dates with a current political agenda. When creating Centre-Left cultural policy, the current situation needs to be evaluated and analysed critically – only then would this policy be able to serve Poland's progress and unity in a united Europe.