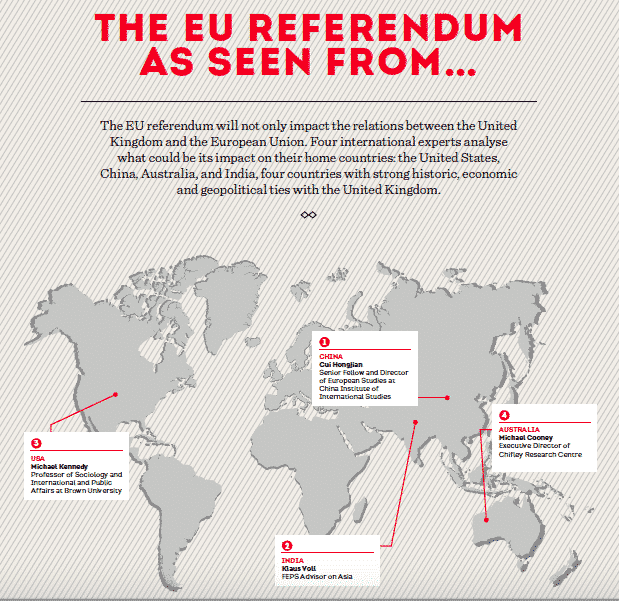 The EU Referendum and Why China is Concerned About It
For the Chinese media, President Xi's forthcoming visit to Britain is the biggest concern, but for serious observers in China, the focus is still the "Exit Referendum".
While most Chinese people are excited about the invitation sent by the Queen to Mr. Xi and his wife to a reception at Buckingham Palace, I regard this visit as determining for the joint fate of Britain and EU. Understandably, most Chinese observers do not think that Britain will eventually "exit" from EU, even if they recognize that the results of referenda are full of unknowns. The reasons are, firstly, that Chinese observers believe that a more favorable choice for Britain is to stay in the EU because of the huge economic interests. The UK would otherwise have to bear huge losses. This "economic interest analysis" is the main perspective that most Chinese analysts prefer to apply when they make judgments on international affairs, which relating to China's development experience and understanding of its relations with the world. Second, they also believe that Mr. Cameron is not willing to be the leader of a country that lost its EU membership, just as he would not like to take the responsibility for the loss of Scotland. Thus, his government and party will do everything in their power to prevent a withdrawal. The third reason is that the Chinese are unfamiliar with referenda, and it is not regarded as a reliable and solemn way of political decision-making. It gives the impression that the government runs away from its responsibilities, while giving opportunities to populists. As an analogy, the "political risk" in the Scottish referendum is often to describe the uncertainty of the referendum itself and the huge "waste" of political resources. Last but not least, most Chinese observers have a positive attitude towards European integration and its product, EU, and tend to see a united Europe, not a divided one. "To support European integration" is not only Chinese government official rhetoric. This could be attributed to the EU's achievements in resolving regional peace and development issues and its external image as a "soft power". Naturally, those supporters of European integration are not willing to see the unexpected or reversed situation, any "exit" situation, whether it happens in Greece or Britain,. The main reason for China's concern about the referendum is that the results will impact China-Britain and China-EU relations greatly, especially if British people say "no" to EU. China has huge economic interests in Britain and looks forward to more cooperation with this important economic and trade partner in Europe. Moreover, it is also an European matter, as if British people choose to leave the EU, China will take time to assess the impact and make sense of the new model of relationship between Britain and EU. No matter which model is chosen, China would have to adjust its policy vis-à-vis Britain based on the results of its assessment. Since there is no "regulation" from Brussels, the two sides can get more space and potential for their cooperation in various fields (finance, energy, green economy and infrastructure). But as a price, China's expectation that a "market liberal" Britain can play a more positive and leading role within EU may fall. When the United States had a hostile positioning and other European countries hesitated, Britain became the first western economy to join the AIIB, which has won a good impression from China. China is naturally hoping that Britain will become a "strong supporter" of China in the West as Prime Minister Mr. Cameron claimed during his visit. If Britain is out of the EU, its pragmatic and positive policy towards China will have less "demonstration effect" to other EU countries, and this is not what China would like to see.