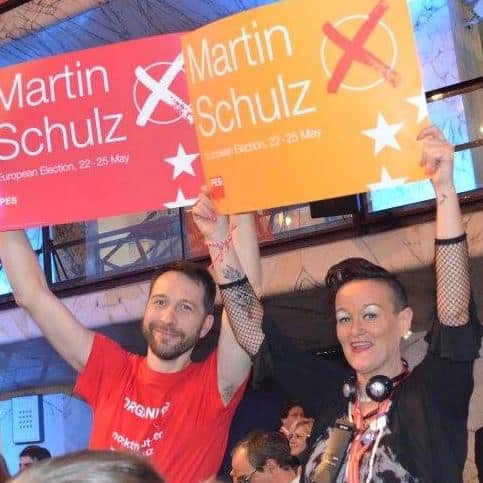 The gatekeepers of democracy
As with any growing organization like PES activists, whilst we recognise it is not possible to homogenise our ideals into what one activist believes, we can say that we share not just a European sense of identity but crucially common values: there are Rubicons that cannot be crossed. This shared identity and these common values are part of our approach to safeguarding democracy.
We, as PES activists, have seen a younger generation become victims of pay freezes, cuts, and job precariousness under the guise of austerity. Keeping this generation in the attention of legislative institutions largely dominated by the right has been a struggle, however through strong leadership in a tough climate, and with a minority, we have watched these issues being forced onto the table time and time again by the PES.
We want a strong Europe with a vision that includes a Youth Plan strategically worked out between PES activists, YES, and our Socialist Common Candidate (the Spitzenkandidate ergo all the leaders of our member countries who nominate him/her). This would also encompass a child guarantee. We want social and economic progress which offers a country by country minimum wage, collective bargaining, and the protection and promotion of trade union rights. This can be achieved by adding a social progress protocol clearly stating that a competitive social market economy must also serve the welfare of EU citizens, leading to robust checks on the exploitation of mobile workers and ending social dumping. This protocol should include a clause protecting the autonomy of social partners, progressive sustainable structural reforms, and robust tax systems.
A social Europe is equally important to our democratic vision and our values, as political activists can never allow them to be used as any form of quid pro quo.  As we look to celebrating the 60th anniversary of Europe as a political union, it behoves us to keep our focus on equality, be it gender, LGBTI, sexual and reproductive, or refugee rights: our outlook on fundamental rights sets us apart from all others. We should be unashamedly proud of our record on equality, and we should continue to be a strong presence in the European Parliament as rights defenders. On this we can work with all NGOs and trade unions, thereby keeping the social pillar strong.
As political activists, we are gatekeepers of democracy. We are aware of those who would tear down the society we strive for, to mop it up with greed and avarice: theirs was never a history of equality, but rather of silence, imprisonment, or worse, for our fundamental beliefs. Populism and nationalism offer no alternative, no transparency.
On 16 June 2016, the European Plan for Youth was adopted and launched by the PES. This is an important first step in overcoming our fears of promoting the next generation, under the umbrella of the four pillars. The plan must also be aided and abetted by making resources available for specialised training, and by applying positive discrimination where necessary. This step is particularly important to young women or people coming from countries where socialist parties are in the minority, and few positive mentors exist. Through direct contact with activists, they themselves can reach an understanding of why going forward with a common candidate, who shares our vision, is the most empowering option.
We must look to the next 60 years with resolve, courage, and an unwavering belief in social justice. United we can offer stability, real workable solutions, and a future of hope to young leaders that through our democratic institutions can see real change and a democracy that can never be compromised.