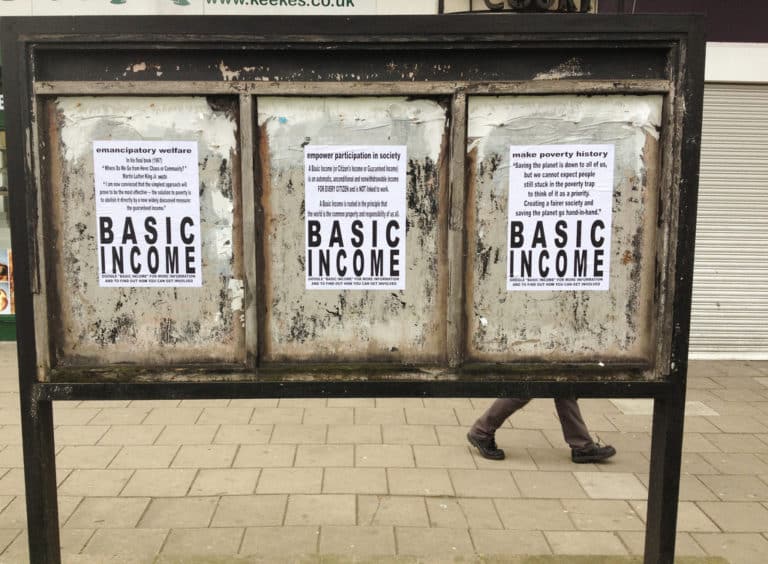 The Need for a Basic Income Policy in Europe
The idea of basic income, once tepidly welcomed in social-democratic circles, is now gaining momentum in Europe. A basic income consists in an unconditional and universal form of social assistance. Even venture capitalists (e.g. Y Combinator) are considering creating market-based basic income measures. This private version of a basic income without a welfare state, however, would not allow to exploit a key feature of a basic income strategy: its capacity to de-commodify people's lives, namely to make people able to survive without having to rely on the market[1].
Why a basic income?
The growing mismatch between European lives and European policies explains why a basic income strategy is becoming so appealing. Recent comparative studies clearly show that current systems of social protection are not effectively protecting the European populations against the risks of poverty. After the crisis, even in EU's most developed welfare states, minimum income protection systems for work-poor households with children fall short compared to the poverty threshold (defined as 60% of the equalized median household income)[2].
Why is social protection failing in Europe? Rising poverty is due to the changing labour market context characterised by precarity and affected by a falling levels of low wages. A basic income policy would (partially) address these challenges by providing support for 'the precariat', namely providing a safety-net for those who experience frequent spells of unemployment in current precarious labour markets[3]. Social protection needs also some updating due to the attention on job growth of social investment policies implemented since the 90s, which have neglected the importance of direct cash redistribution[4]. A basic income policy would offer direct cash and its unconditionality would break the costly (and often counterproductive) spiral of our social protection systems towards means-testing.
Can we think about a European basic income policy for young people?
How can the EU agree on a basic income policy, when it fails to agree on a European minimum level of social assistance? Creating a European basic income policy would present several challenges, not least for the need of establishing different national definitions of 'basic income'. The political opportunity for introducing a basic income increases, however, if the measure targets specific demographic groups[5] and even more if it addresses a truly European challenge.
The obvious candidate for a basic income would be therefore young people, not only because they represent the core of the precariat, but also for the need of rebalancing welfare state interventions against inter-generational inequalities. After the labour market reforms implemented in the 90s, labour market systems have become more conditional and they rely even more on workers' contributions[6]. This system often disadvantages young adults who typically have no accumulated contributions. Recent studies show that the labour market has a declining capacity to sustain young people's lives; furthermore, welfare state cuts have made young people more reliant on family resources – thereby increasing inequalities among this youth cohort[7]. A basic income for young adults (e.g. for young people from 18 to 25) could intervene where the European Youth Guarantee is failing: offering a protection during spells of unemployment and in precarious transitions (also for young graduates) and providing direct cash redistribution against the rampant level of inequalities within this youth cohort.
Why basic income is not enough
Basic income can hardly be considered an all-solving strategy and one of its major caveats is that it does not deal with labour market failures. A basic income policy will not directly address one of the main drivers of social exclusion: in-work poverty generated by the declining level of wages. A basic income policy which is not combined with a strategy to 'making work pay' would end up using public resources to absorb social externalities created by the market, such as falling wages. Updating the mechanisms of social insurance is as important as re-establishing the contours of 'responsible capitalism'. In order to address this, the state should update the systems of social protection, as well as re-open the dialogue with employers on living wages.
[1] Esping-Andersen, G. (1990). Three Worlds of Welfare Capitalism. Cambridge: Polity Press.
[2] Cantillon, B, Collado, D. and Van Mechelen, N. (2015) "The end of decent social protection for the poor? The dynamics of low wages, minimum income packages and median household incomes" Discussion Paper No. 15/03.
[3] Standing, G. (2011). The Precariat. London: Bloomsbury Publishing
[4] Marx, I. (2013) "Why Direct Income Redistribution Matters if We Are Really Concerned with Reducing Poverty" Intereconomics : review of European economic policy, Vol. 48., 6, p. 350-356
[5] Torry, M. (2013). Money for Everyone. Bristol: Policy Press.
[6] Antonucci, L. (2015). 'Towards EU youth policies? The limits of current welfare states and the potential for a "Youth Transition Fund" (YTF). ' Solidar Social Progress Lab Paper, Brussels: Solidar.
[7] Antonucci, L., Hamilton, M. & Roberts, S. (eds.) (2014). Young People and Social Policy in Europe. Dealing with Risk, Inequality and Precarity in Times of Crisis. Basingstoke: Palgrave Macmillan.