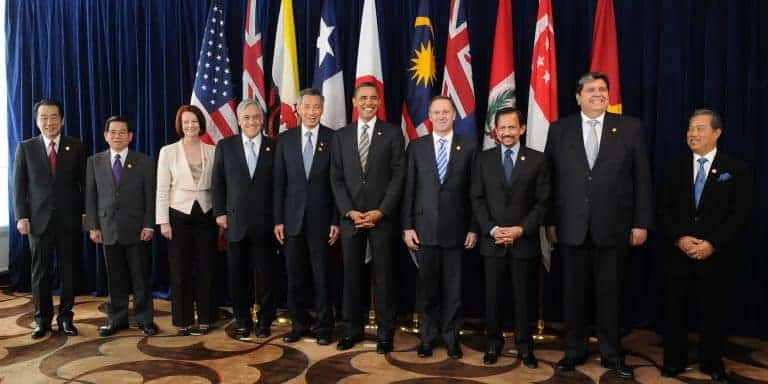 The New Politics of Trade
Regardless of the ultimate outcome in November, there is no question that campaigns of Donald Trump and Bernie Sanders have altered the landscape of the political debate on trade. Two major trade deals hang in the balance, one with Asia and the other with Europe, both massive priorities for the Obama administration. The shakeup on trade policy will be felt in the United States, Europe, and around the world.
Free trade has enjoyed an elite-level and bi-partisan consensus in the United States for the last 25 years. Beginning with the ascendency of President Bill Clinton and his more centrist New Democrat philosophy, enough Democrats have supported free trade to pair with the large majority of Republicans to get multiple free trade agreements and bills through Congress. Beginning with the North American Free Trade Agreement, or NAFTA, and the formation of the World Trade Organization, both concluded during the Clinton administration, through the process that ushered China into the WTO and numerous free trade deals with individual countries that spanned both the Bush and Obama administrations, free trade has been one of the few issue areas that has demonstrated cross party support throughout the last three presidential administration.
That is not to say the politics were not fraught, particularly on the Democratic side. The votes to adopt these agreements were often contentious and extremely close, with the dynamic usually holding that a minority of Democrats would join with a majority of Republicans to get the measure through. The votes in the House or Representatives were typically closer and more difficult, with the Senate usually passing the legislation with a comfortable majority.
Deep divisions within the Democratic coalition have driven the discord and caused the support from rank and file Members to be far lower than in either of the two Democratic presidential administrations during this period. Anti-globalization protesters violently disrupted the WTO negotiations in Seattle in 1999. Organized labor and many environmental organizations have been fervent opponents of these trade deals. These groups can have an outsized impact on Democratic primary campaigns, and as a consequence, Democratic candidates often campaign as less strong supporters of free trade than the positions they take once in office. A famous, or infamous, example of this is then-candidate Barack Obama's pledge to "renegotiate NAFTA" during the 2008 campaign.
Given this reality, it may be tempting to look at Hillary Clinton's campaign conversion to opponent of The Transpacific Partnership, or TTP, trade agreement, a deal she actively supported as Secretary of State, as of a kind with previous examples. But this time does seem different. It's different because Bernie Sanders has effectively linked free trade to what he describes as the pro-Wall Street agenda that many blame for the global financial crisis of 2008 and the hollowing out of America's middle class. And it's different because now the Republican nominee is also a fervent opponent of free trade for the same reasons.
The new political reality on trade cannot be separated from the fallout from what is called in the United States the Great Recession of 2008-09. The first wave of political impact from dramatic economic downturn was the Tea Party backed Republican takeover of Congress in the 2010 midterm elections. That ushered in Republican-driven austerity politics in the United States with its relentless focus on deficits and debt. Democrats began to fight back by 2012 with a new focus on economic and income inequality with a message that highlighted stagnant middle class wages and an economic recovery that had titled towards the already well off.
Income inequality provided an economic message that united Democrats, bringing together progressive champions like Sen. Elizabeth Warren and New York City Mayor Bill deBlasio with more moderate Democrats on economic policy like Sen. Mark Warner and President Obama. That task was made easier when facing off against the extremely wealthy and aristocratic Mitt Romney, but it papered over real divisions on both the causes of that inequality and how to alleviate it.
Politically divided government and a dysfunctional Congress has meant that not much policy has been implemented during this period of rather effective Democratic messaging on income inequality. President Obama's trade deal with several Asia-Pacific nations, TPP, has been thrust into this environment and now represents potentially the most significant economic policy of his second term by far. It has, however, exposed the rifts just beneath the surface among Democrats, as many believe free trade deals like the one President Obama just negotiated are a primary cause of that very inequality he so rightly abhors.
While the strength of the wave that has helped carry Sanders this far in this campaign is surprising, the reality of divisions among Democrats on trade is not. What is genuinely shocking, however, is the extent of anti-trade sentiment among Republicans that has been shaped and exploited by Donald Trump. Aside from his bashing of ethnic minorities, perhaps no other issue has dominated Trump's campaign rhetoric more than his critique of trade deals with Mexico and China. He describes these trade deals as a "typical example of how politicians in Washington have failed our country."
It is correct to say that Libertarian hero Ron Paul was equally opposed to free trade, but he was always on the fringe of the Republican Party and this kind of anti-trade rhetoric is new for a major Republican politician. It's having an impact. One Illinois Republican voter said recently "I've always been a free trade guy. I've felt it's important. But it feels like we're giving away the farm." Republican elected officials are responding. Senator Jeff Sessions, an early Trump supporter, said recently "the Republican electorate has, begrudgingly, gone along with their leaders for 20 or 30 years. I supported all these trade agreements… but it's becoming clear that the promises that were made weren't true."
It is undoubtedly true that most Republican elected officials remain committed to the consensus favoring free trade. But equally true is that all those same elected Republicans are reevaluating their positions in the wake of the Trump shockwave. Whatever the result in November, it doesn't seem likely that it can ever just go back to the way it was before Trump. Republicans are virtually certain to experience similar divisions within their coalition as the Democrats do on trade.
What this means for the fate of TPP and President Obama's other major pending trade deal, the Transatlantic Trade and Investment Partnership, or TTIP, is unclear. It is possible that Congress will take up TPP in a lame duck session should Trump lose in November. But whatever the result of the presidential election and TPP, a new bi-partisan consensus on trade may be forming that is at the very least deeply skeptical of the kinds of trade agreements that have been the norm since the 1990s.
Photo: Heads of State from TPP Member Countries.