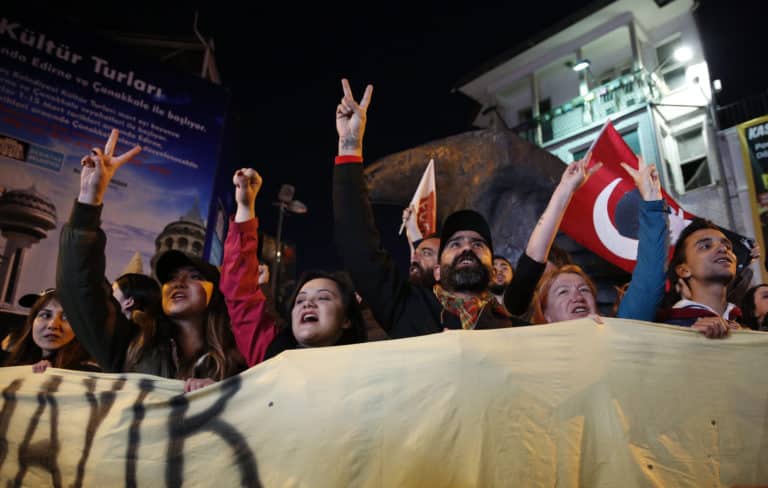 A Troubled Outlook for the Country and Its Transatlantic Partnerships
Turkey's April 16th referendum confirmed and extended the sweeping powers President Erdoğan had already de facto acquired. It was a very close result, with the "yes" vote at 51.4 percent. Given the significant obstacles and heavy media bias facing the opposition during the campaign, and apparent irregularities in the vote itself, the outcome can hardly be interpreted as a strong mandate. Without question, it suggests a sharply divided society, and a Turkey increasingly at odds with European values and norms. None of this is good news for Ankara's relations with transatlantic partners.
Before the referendum, some observers had spoken of a positive scenario in which President Erdoğan, having successfully secured broad new powers over parliament, the judiciary and other key facets of the Turkish system, would embark on a more conciliatory approach in rhetoric and practice. This might include a renewed opening to Turkey's Kurds, reining in the purge of perceived opponents across the political spectrum, a more permissive attitude toward media freedom, and a less confrontational stance with Europe and Washington. Early indications suggest that this reformed posture is unlikely. The President and the AK Party have brushed aside demands for a recount. Renewed calls for the reinstatement of the death penalty and possibly a referendum on continued EU accession talks suggest that the uncompromising line of recent years will continue, and might even be reinforced.
Turkey's full-scale slide toward an authoritarian system will have transatlantic consequences. Washington and the EU have clearly entered a transactional phase in relations with Ankara. Turkey remains an essential partner for NATO and the EU in managing a range of pressing challenges, from refugee flows in the Eastern Mediterranean to containment of the violence in Syria, from counter-terrorism to Aegean stability. But the EU accession process has been at an impasse for years, and there is virtually no prospect of its revival in the wake of the April 16th referendum. Under these conditions, it is likely that the Turkey-EU relationship will come to resemble the Turkey-US relationship in key respects – more narrowly based on security and defense cooperation and more heavily focused on Turkey's role as a barrier to Middle Eastern and Eurasian risks. Even here, the drift away from shared norms erodes the constituency for partnership with Turkey, and removes an essential "fly wheel" of affinity and common values. It is a formula for an even more brittle and unpredictable relationship.
Not surprisingly, the AK government and its nationalist supporters have been optimistic about the change of administration in Washington. Indeed, the advent of the Trump administration suggests that the US will be less concerned with democracy and human rights in Turkey. But this does not necessarily mean an easy path for bilateral relations. These relations have always been difficult to manage, in large measure because they have been based on sovereignty laden defense and security issues, with relatively weak economic and civil society ties. Turkey has traditionally been seen as a strategic partner, but policy perspectives have often differed. The Trump administration may be no more forthcoming than its predecessor when it comes to American support for the Kurdish Y.P.G. militia in Syria, or the extradition of Fethullah Gülen, leader of a movement implicated in the failed July 15, 2016 military coup. Policymakers on both sides of the Atlantic will worry about the strength of Turkish nationalism – against a backdrop of mounting nationalism elsewhere — and the growing influence of military and civilian figures favoring a Eurasian rather than and Atlantic approach in Turkey's foreign policy. Overall, it is a troubled outlook for relations with a deeply troubled Turkey.
Photo: Orlok / Shutterstock.com