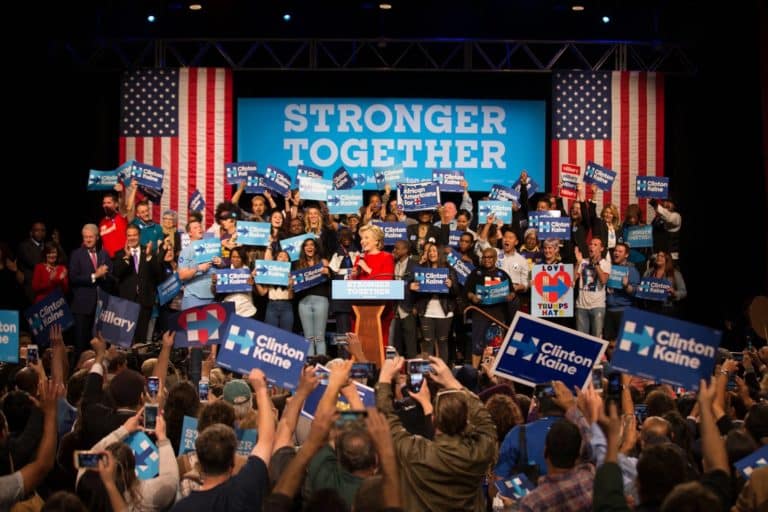 A Wider Perspective on the 2016 US Election
As this is the last pre-election edition of this Newsletter, it is worth spending some time now on some other aspects of the election, notably potential reasons Clinton's current strong position could turn around, and a look at the very important races for control of the Senate and the House.
As mentioned above, no presidential candidate in the history of modern American polling has ever lost when leading by at least four points in October. The last to come close was Ronald Reagan's come from behind win over the incumbent Jimmy Carter in 1980, when he reversed a three point deficit. So, what could happen from now to November 8th to result in a Trump win?
While Clinton is not an unpopular incumbent like Carter, she is certainly unpopular. In fact, if it were not for Trump, Clinton would be the least popular candidate to ever win the nomination of a major party in the United States. And while she technically is not an incumbent, she is clearly and correctly seen as largely a continuation of President Obama's two terms. Winning three consecutive elections for one political party is very difficult, it has only happened once since 1948, when George H.W. Bush won in1988. So, Clinton does have some real head winds in this election that could hurt her down the stretch.
It is possible that Clinton could be rocked by a major scandal, or otherwise have her credibility further eroded. Right now, it is clear that Wikileaks is targeting her campaign, very likely with the help of the Russian government. Just in the last few days, several caches of private emails from Clinton Campaign Chairman John Podesta—full disclosure, he was the founding president of the Center for American Progress and remains on our Board of Directors. Nothing in those messages have proven particularly damaging, and given the state of the Trump campaign, it is likely that if there were something in Wikileaks' possession that could turn it around, they would have released them. But new and genuinely damaging disclosures cannot be ruled out.
Then there is the enthusiasm deficit. Clinton has not inspired the same kind of positive support that Trump has attained among his supporters, nor the level of support that Obama received from some key demographic groups that make up the Democratic coalition, particularly minorities and young voters. The realistic threat of a Donald Trump presidency has motivated some in these groups to back Clinton's candidacy. But if that possibility continues to recede, some of those voters simply may not show up on Election Day. This would not have a decisive impact on the outcome with the margin between the candidates in double digits. But when combined with a poorer than expected showing in other areas, it could be one of the contributing factors in a surprise result.
The current strong showing by third party candidates, Libertarian Gary Johnson and the Green Party's Jill Stein, could remain a factor. Typically, support for third party candidates tends to be inflated until the fall, as some voters tell pollsters that they are backing a third party candidate as a staging ground until deciding on one of the two major party candidates to back. Or, simply, some of those supporting third party candidates decided that they would rather vote for a candidate that can actual become president. The trend in past elections is certainly for third party support to drop the closer we get to the election. There is reason to believe that the support for third party candidates in this election, currently at about 10% of the vote, is different this time.
First, Trump and Clinton are historically unpopular. There is reason to believe support for third party candidates could be more durable this year given the dislike of the two major party candidates. Second, a large percentage of the support for Johnson and Stein comes from younger voters, who may be less inclined to drift back to a major party candidate than older voters. And third, if it continues to look like Trump can't win, some voters who would otherwise switch from a third party to Clinton to ensure Trump loses may feel more comfortable sticking with their first choice. Again, none of these are likely to be decisive, but stubbornly high support for third parties could chip away at that comfortable Clinton lead.
Lastly, the polls could simply be wrong. We hear this a lot in the United States, sometimes from Trump himself. For Europeans still dealing with the fallout from the surprise result in the Brexit referendum, when the polls really were wrong, it is a legitimate concern. And there is that stubborn L.A. Times/USC poll, which has consistently showed Trump about six points higher than the national average. For example, Tuesday's L.A. Times poll had Trump up two points while the NBC/Wall Street Journal had Clinton up nine and the Atlantic had her up 11.
But I would caution that the uncertainty around polling a national referendum, when there is no history or the make up of the electorate nor any reliable way of predicting the turnout, is much, much different than polling in a presidential election that happens every four years. That is not to say that polls are never wrong in the U.S. But it is hard to see so many pollsters getting this election so badly wrong that it would turn over what now looks like a close to ten point margin.
The L.A. Times poll has some peculiarities about it that explain its consistent outlier status, like keeping the same sample of voters that many pollsters have questions was not a representative sample and polling it again and again. The L.A. Times poll has followed a similar trajectory to the polling averages, it has just has about a six point house effect favoring Trump.
We should not dismiss the possibility that the polls are wrong. Nor should we be content that Gary Johnson's support will fade, that a scandal could shake the Clinton campaign, or that her voters simply won't turn out in sufficient numbers. But given the size of the current margin between the candidates, it would likely take some terrible combination of all of these factors to produce a Trump win. That seems very unlikely.
The Senate and House races are also being impacted by Trump's woes. It is important to recall that in 2008, Barack Obama beat McCain by seven points and it produced supermajorities for Democrats in both the House and the Senate. Gerrymandered House districts and a 54-46 deficit in the Senate make that goal totally unattainable in this cycle. Additionally, the unique characteristics of this campaign cycle could induce more split ticket voting than the United States has experienced in recent years. But what also could happen is that some disillusioned Republican voters could simply sit out the election entirely, and that would have a devastating affect on Republicans up and down the ticket.
In the Senate, Democrats need a net gain of four seats to take control if Clinton wins, because the Vice President breaks a tie in the Senate. Republicans are defending a lot of seats in states Obama won twice, Illinois, Wisconsin, Pennsylvania, New Hampshire, Ohio, and Florida, and a number of others that are hotly contested, Indiana, North Carolina, Missouri, and Arizona. Democrats are defending only one state that is even close, Nevada. It is hard to believe that given the states in which the Senate will be decided—mostly states that Clinton is likely to win—that Democrats won't pick up the four seats they need to take control.
The House is a different story. The Republicans hold a 59-seat majority and the Congressional districts generally favor them. It is possible that Democrats could pick up the 30-seat swing that is necessary to regain control of the House, but it remains a long shot. In 2008, when Obama beat McCain by 7 points, Democrats earned a 79-seat majority, but that was before redistricting following the 2010 Census produced districts that gave a big advantage to Republicans. If Trump continues to crater, however, it could certainly pull down enough House Republicans to flip the House.
The United States has experienced major landslides in four of the last five elections—2006, 2008, 2010, and 2014. Right now, one month out, this election feels like a landslide. Trump is catastrophically unpopular, at war with large parts of his own party, rocked by a major scandal that has finally put a serious dent in his support, and is running a campaign that seems designed to alienate the very voters he needs to win. Four weeks is a long time in politics, but it would take a seismic shift to put Trump in the White House.