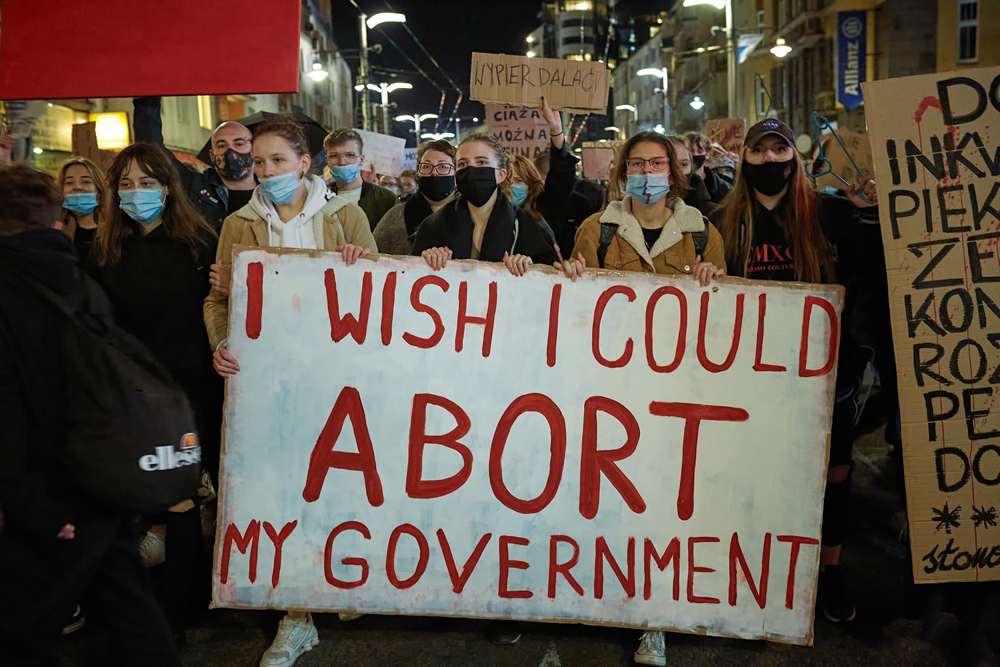 "Your body is a battleground"
This year's International Women's Day in Poland is organised around the slogan 'Women's Rights. Without Compromise'. But more than in any other country in the European Union, Polish women's rights are under attack again, by regressive and government policies that amount to full-blown war on women in the name of traditional values. And the 1990s slogan 'Your body is a battleground' is true as rarely before.
Over 30 years ago, in 1991, when the battle for legal abortion in Poland began, and women's rights were under attack, Barbara's Kruger poster "Your body is a battleground" was shown in Warsaw for the first time. The poster had been created by the US artist Barbara Kruger for the Women's March on Washington in 1989. The image of a woman's face, disembodied, split in positive and negative exposures of black and red, accompanied by texts in favour of women's rights, abortion and sexual education, was conceived at a time marked by numerous demonstrations against a new wave of antiabortion laws in the United States. It was originally tied to a specific moment, but the true power of the work lies in the timelessness of its declaration, which is clearly visible in the reality of women in 2021 in Poland.
Today, more than ever, women's bodies are a political battleground. At the end of the harsh pandemic year, women in Poland have been stripped from their right to decide whether to terminate or maintain a pregnancy with foetus abnormality, as the Polish Constitutional Tribunal (regarded as unconstitutional and political by the democratic opposition in Poland and the European Parliament) has enforced a near-total abortion ban. On 22 October 2020, the tribunal has issued a verdict which declared unconstitutional a 1993 law, allowing abortion in cases of severe and irreversible foetal abnormalities. In the past few years, a majority (98 per cent) of legal abortions in Poland were carried out on those grounds. Therefore, the ruling banned most pregnancy terminations performed in hospitals. The decision by the country's constitutional tribunal further tightened Poland's abortion laws, which were already among the strictest in Europe.
In the past six years, with the Law and Justice Party (PiS) as the ruling party, Polish women have been losing their rights bit by bit. The Polish right-wing conservative politicians are strongly supported by the Catholic Church and ultra conservative organisations such as Ordo Iuris – an extreme anti-choice group whose founders were 'inspired' by the controversial Catholic fundamentalist network Tradition, Family and Property – that push the government further and further to the right. Since coming to power in 2015, the PiS government has targeted women's rights as if they were dangerous to families and traditional values. Over the last six years, PiS leaders, politicians, and church officials advocated for laws and policies aiming to reinforce traditional gender roles, downgrading feminism, and publicly discouraging efforts to combat violence against women. Women in Poland have long faced restrictive abortion laws, limited access to sexual and reproductive health, information and care, inadequate services, and support in the face of violence, as well as the perpetuation of traditional and prescribed gender roles. Since PiS party came to power in 2015, the situation has regressed considerably. Yet what has happened on 22 October 2020, marked a total backlash of women's rights in Poland in a way never seen before.
In the past few months, Polish streets have been flooded with women, men and young people marching in massive numbers to fight for women's fundamental rights. Sweeping through Polish cities, town and even villages, these are the biggest protests since the communist times. Peaceful protesters were faced with excessive police violence, using forces gas, telescopic batons and kettling techniques – using blockades to keep a crowd in a limited area. Many have been detained and the organisers of protests in smaller towns, often young teenagers, have been charged with organising illegal events as the country was put under the pandemic regime, and have been threatened by the police with legal consequences for their actions.
Meanwhile, thousands of women have been put in a dramatic situation with doctors and hospitals refusing to perform abortion procedures immediately after the Constitutional Tribunal ruling was announced, even before the official implementation. For a brief moment, it seemed that a battle was won, as the government – surprised by the large scale of protest – postponed the publication of the decision. But finally, the verdict was published, and the law came into effect on 27 January 2021. As of this day, hospitals and doctors have been turning away women seeking abortion, and women's organisations such as the Federation for Women and Family Planning have received numerous calls from distressed women seeking help after being sent away from clinics, despite having appointments because of foetal abnormalities. Many other women's organisations and groups have put all their efforts into helping women to get access to abortion abroad or through international networks which help women to get access to pharmaceutical abortion. Countries all over the world not only declared their support for Polish women, but also proposed abortion funds and presented staunch support from political leaders.
Barbara Kruger's poster appeared on Polish streets once again, in December 2020. The war against women continues, but the determination of women to fight for their rights increases. It is not an end, but a new beginning, a second wave of Polish women's revolution.
Polish women look up to their sisters in Argentina and Ireland, aware that this is a war that they will finally win, regardless of how long it might take. Despite the government's restrictions, the social process has begun. As an effect of police brutality and the ruling party's opposition towards women's rights, the Polish society has turned towards a greater support for legalising abortion. A series of opinion polls found that most Poles – 80 per cent – are opposed to the tribunal's verdict, over 50 per cent support the protests as well as legal and safe abortion. Although the ruling party tried to distance itself from the abortion ruling, it is well known that the decision on a nearly total ban on abortion had originated from PiS. As a result, the support for the ruling party has dropped significantly. But what is most significant: the support for the legalisation of abortion law has never been at such an important level.